Commissioner of Police Ludhiana interacts with residents through facebook live
Urges them to support the police during lockdown/curfew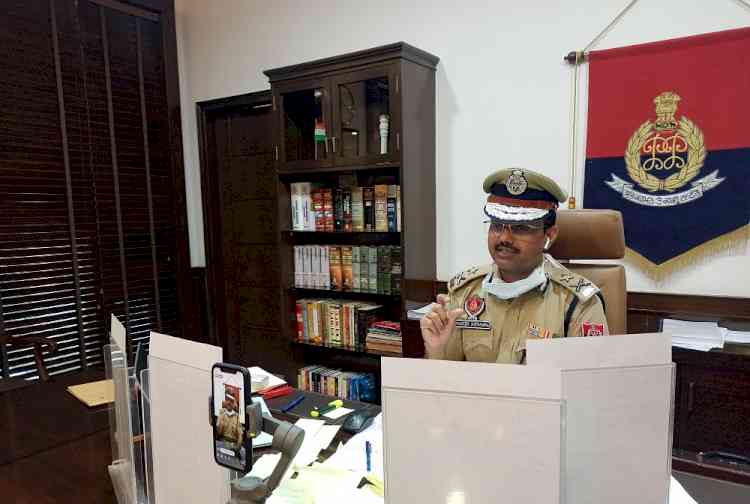 Commissioner of Police Ludhiana Mr Rakesh Kumar Agrawal on Saturday interacted with the city residents through a session of Facebook live.
Ludhiana: Commissioner of Police Ludhiana Mr Rakesh Kumar Agrawal today interacted with the city residents through a session of Facebook live. More than 28,000 people connected with the Commissioner of Police during his 50 minute long Facebook live, whereas this session was shared by 326 persons. While replying to more than 1,300 comments during his Facebook live, Mr Rakesh Kumar Agrawal asked for their support during the ongoing lockdown/curfew, that has been imposed by the Punjab government in public interest.
    During the Facebook live, Mr Agrawal informed that a large number of people have been supporting the Ludhiana Police in enforcing the lockdown/curfew, and said that he expects the same in coming days too. He said that because Novel Coronavirus (COVID 19) is a very deadly disease, and it spreads if we do not maintain social distancing, and that is why, the state government has decided to extend it till May 1, 2020.
    He said that the lockdown/curfew would be imposed strictly from now on, and strict action would be taken against all violators, including morning/evening walkers, people spreading rumours and people moving around without wearing masks. He said that 15 drone cameras are being used to keep a close watch on the activities of all violators.
    He informed that in the 18 days of lockdown/curfew, the Ludhiana Police have registered 250 FIRs and 410 persons have been arrested for various violations, whereas more than 9000 persons have been sent to open jails. During a special drive carried today, more than 250 vehicles of lockdown/curfew violators have been impounded by the Ludhiana police, and these vehicles would be released only when the lockdown/curfew is over.
    Similarly, 5 FIRs have been registered against persons spreading rumours on social media, and warned of strict action against even the group admins if rumours are being shared on social media.
    While sharing the police control room numbers, Mr Rakesh Kumar Agrawal said that if any person wants to share some information, they can contact at the Police Control Room 24X7. He informed that every single official of the Police Commissionerate Ludhiana is working for more than 16 hours daily without any leave.
    The Commissioner of Police Ludhiana appealed to the organisations preparing and serving langar/cooked food during lockdown/curfew, that they should now come forward for distributing dry ration amongst the needy persons. He said that cooked food has lesser shelf life as compared to dry ration, and more number of people and machinery is also required to prepare/distribute it. He assured of all possible help to the organisations regarding distribution of ration, but they need to take prior permission before performing any such sewa.
    He informed that to ensure that lockdown/curfew is strictly imposed in the city, more than 2000 volunteers are performing duties and assisting the Police. He said that if any person or organisation wants to contribute/assist, they can contact him through Facebook and submit their suggestions.
    While saluting the doctors and health department officials for their hard work and dedication while performing their duties, Mr Agrawal appealed the residents to salute doctors/health department officials whenever they meet/see them. He said that the best way to save ourselves from COVID 19 is to strictly follow the guidelines being issued by the Punjab government. He said that the police does not want to harass or arrest any person, for which peoples support is required. He assured that citizens of Punjab would themselves win this war against COVID 19.
    He was also accompanied by Additional Deputy Commissioner of Police Mr Deepak Pareek.