Commendable performance by students of  Innocent Hearts Group of Institutions in University Examination
Dr. Anup Bowry (Chairman, Innocent Hearts Group), Dr. Shailesh Tripathi (Group Director, IHGI) and all faculty members congratulated the students for this achievement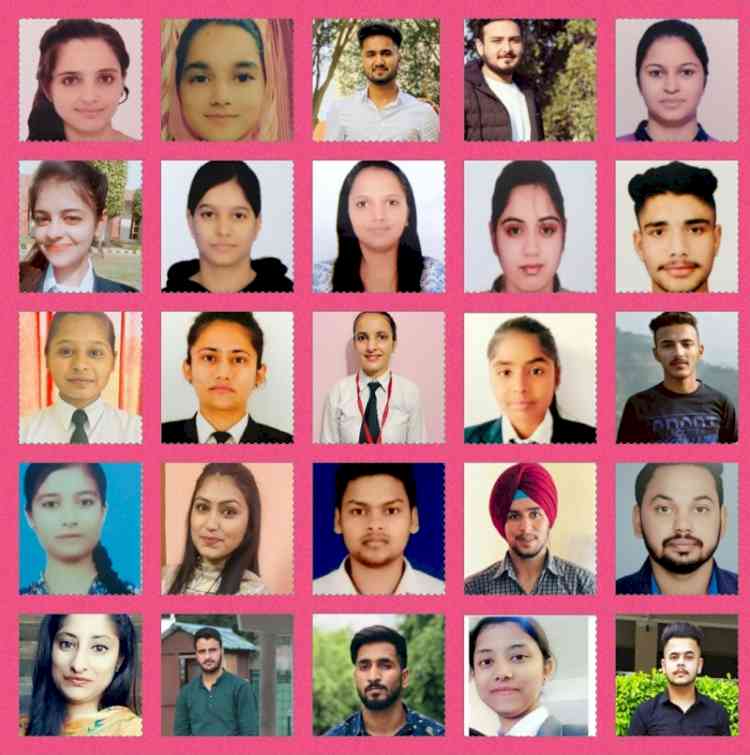 Jalandhar: Students of Innocent Hearts Group of Institutions performed excellent in IKGPTU Examination. Students from IT, Management, Hotel Management, Agriculture & MLS department secured up to 10 SGPA and surpassed the final semester result.

B.Sc. Agriculture 8th sem students Maneet Taak, Atish, Kirandeep, Ranjan, Dileep, Avinash, Aman, Abdul, Akash, Deepnandan, Nadida, Satyam and Vishwanath secured 10 SGPA, Anil Kumar secured 9.8 SGPA, Parminder secured 9.1 and Abhimanyu, Rohit & Sant secured 9.0 SGPA.

Sonia, Shivani and Geeta from MBA-4th semester secured 9.9, 9.7 and 9.4 SGPA respectively.

BBA-6th Semester students Krishan Secured 9.7 SGPA, Kajol secured 9.5 SGPA, Abhinav 9.1 and Vandana & Amandeep secured 9 SGPA.

BCOM -6th Semester students Jaspreet Kaur, Arzoo, Harsdeep Kaur and Diksha  secured 9.8, 9.5, 9.4 and 9.2 SGPA.
Ritu Bala from MCA-6th semester secured 8.2 SGPA. 

BCA 6th semester Dyal Kaur and Yashab secured 9.8 SGPA, Ankita secured 9.5 and Anmol secured 9.0 SGPA.

Rajwinder Kaur from department of Hotel Management secured 9.8 SGPA, Palwinder Kaur secured 9.7 SGPA, Binny Shoor & Mandeep Kaur got 9.6 SGPA, Rajwant Kaur, Raveena & Nisha secured 9.4, 9.3 & 9.0 SGPA respectively. 

Amandeep Kaur, Anchal and Manish from ATHM secured 9 SGPA.

From B.Sc. MLS -6th semester Raman and Yasirul secured 9.8 SGPA. Mithilesh, Pinki, Asif, Shafia, Shahid and Touseef secured 9.1 SGPA.

Dr. Anup Bowry (Chairman, Innocent Hearts Group), Dr. Shailesh Tripathi (Group Director, IHGI) and all faculty members congratulated the students for this achievement and wish them good luck for their future.