Commemoration function of 121st birth anniversary of Late Justice Gurnam Singh
Event held at Guru Nanak Girls College, Model Town, Ludhiana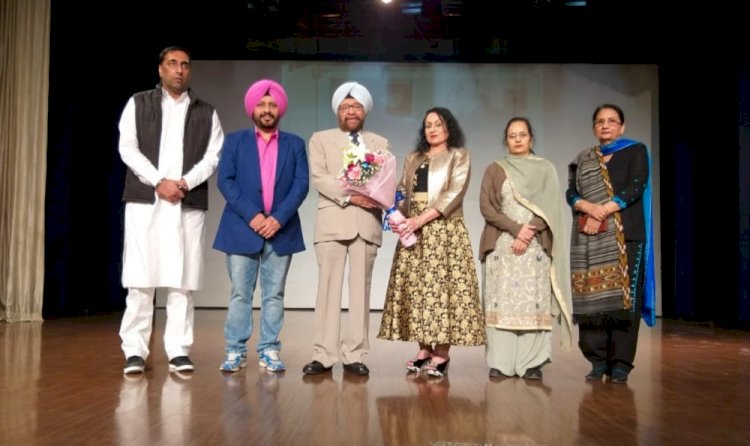 Ludhiana: A Commemoration function of 121st Birth Anniversary of Late Justice Gurnam Singh, former Chief Minister of Punjab and founder of Guru Nanak Girls College, Model Town, Ludhiana was celebrated with much enthusiasm, vigour and zeal in the college premises today. 
Director (Dr.) Charanjit K. Mahal extended a warm welcome to all the dignitaries and esteemed guests. She highlighted the august guests with the magnanimous contributions of Justice Gurnam Singh in transforming the rural economy of Punjab, making the state, the most prosperous in India and a model, which other states emulated. 
Gurbir Singh, President Guru Nanak Education Trust, was the Chief Guest on the occasion. Rich tributes were paid to Justice Gurnam Singh. Addressing the large gathering, he said that Justice Gurnam Singh was a great son of Punjab who served the nation with distinction as a statesman, sportsperson, judge and an educationist. He said Justice Gurnam Singh can be credited for fixation of minimum support price of food grains by the Government of India which greatly contributed in making India self sufficient in food and making Punjab the richest state in the nation. 
Paying glowing tributes Director (Dr.) Charanjit K. Mahal said that the city of Ludhiana owed a lot to Justice Gurnam Singh. She said the establishment of Guru Nanak Dev University, Amritsar, Guru Nanak Dev Thermal Plant, Bathinda, Punjab School Education Board and many other Institutions is a lasting tribute for him. Members of Guru Nanak Education Trust - Prof. (Dr.) S.S. Mahal and Ishwarjot Singh Cheema also graced the occasion. Students of the College Hostel, Music Department and Dance Department entertained the audience with their performance.