Coming to Himachal - pass required, no pass required to travel within Himachal
Informs DC Kangra Rakesh Prajapati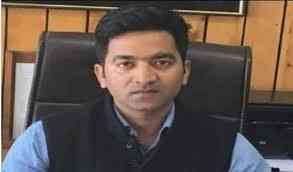 DC Kangra Rakesh Prajapati in Dharamshala.
Dharamshala: The ban on Inter district travelling in Himachal Pradesh has been lifted from today (1st June 2020), as the bus service within the state started. DC Kangra Rakesh Prajapati said that now no pass is required to travel in HP and the travellers within the state will not be put under quarantine anymore.
He said that the people are allowed to go out of the state but the people coming to the state from other parts are required pass to enter the state of HP.
He said that the additional Chief Secretary Health Government of HP has issued a guidelines for the persons coming to HP from other states. Whereas, it is imperative to aggressively track these interstate returnees for development of symptoms, testing as per protocol and completion of their quarantine & surveillance periods to contain the epidemic and limit the spread of COVID-19 in the State of Himachal Pradesh.
 
Now therefore, in exercise of the powers conferred by the Clause 3 of the Himachal Pradesh Epidemic Disease (COVID-19) Regulations, 2020 notified vide notification no. HFW-A-A (3)1/2020 dated 14-03-2020 under the Epidemic Disease Act, 1897 and in continuation of the Order bearing no. NHMHP-IDSP/1/2020-IDSP Section-National Health Mission-HP-Part (2)-3152 dated 1st May 2020.
 
Only selected inter-state check posts shall be utilised for the regulated inter state movement of individuals. The concerned District Administration shall decide on the checkposts to be made functional depending on the number of passes issued.
 
Upon return to the State, no quarantine shall be applicable to those asymptomatic individuals who have undertaken a short duration visit (less than 48 hours) to other state for medical/business/official purposes with permit. However, such individuals shall be passively put on surveillance and tested for COVID-19 through RTPCR, If symptoms develop over the course of next 28 days.
 
All other inter-state travellers have to mandatorily undergo a 14 day period of and a further extended 14 day period of surveillance. In case, they develop any flu/ influenza they shall inform the concerned officers.
All inter-state travellers who have a travel history from the high load COVID-19, infected cities shall be institutionally quarantined like cities of Mumbai,  Chennai, Ahmedabad, Thane,  Pune, Hyderabad, Thiruvallur, Kolkata Howrah, Indore, Jaipur, Jodhpur,  Chengalpattu, State of Delhi (except New Delhi. Shahdara, South Delhi, North East and South West Districts of Delhi State.  HP government said that this list of high load cities shall be notified and amended from time to time.
All inter-state travellers who have stayed outside the State for a period longer than 48 hours and are not travelling from a high load city shall be quarantined for a period of 14 days in their homes
Travelling is allowed from 6 am to 8 pm only.