Coffee table book titled "Spiritual Journey of Sri Guru Teg Bahadur Sahib Ji" prepared by Punjab Lawyer Harpreet Sandhu, released
This book has been dedicated to 400th Prakash Purab of Sri Guru Teg Bahadur Sahib Ji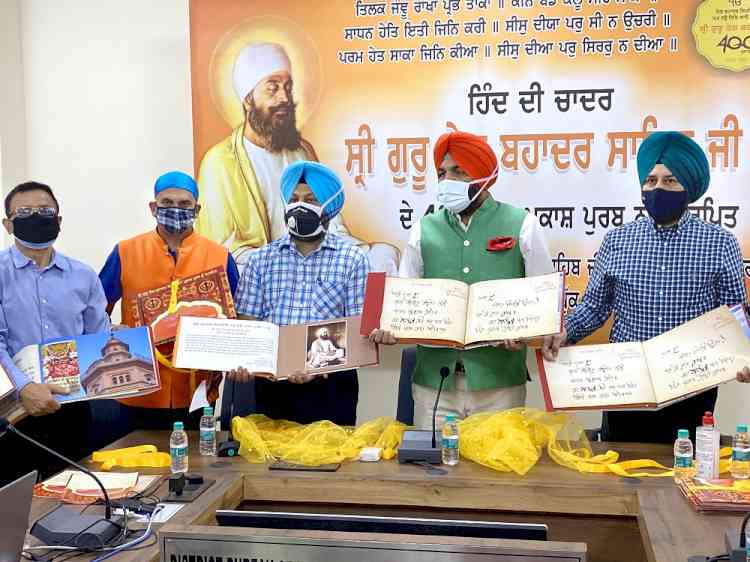 Photograph taken during release of Coffee Table Book on 400th year of Guru Teg Bahadur Sahib.
Ludhiana: On the auspicious occasion of 400th Birth Anniversary of Guru Teg Bahadur Sahib, Member Parliament Amritsar Gurjeet Singh Aujla released a special Coffee Table Book prepared by Punjab Lawyer Harpreet Sandhu, titled "Spiritual Journey of Sri Guru Teg Bahadur Sahib Ji", depicting the Pious Journey of Ninth Sikh Guru, from his Birth till Martyrdom. The documentary portrays the historical relevance of holy Gurudwaras where Guru Teg Bahadur Sahib left his footprints i.e. Guru ka Mahal (Amritsar), Vayah Asthan (Kartarpur, District Jalandhar), Bhora Sahib (Baba Bakala),  Thara Sahib (Amritsar), Guru Ke Mahal (Bhora Sahib, Sri Anandpur Sahib), Thara Sahib (Sri Anandpur Sahib), Dukh Nivaran (Patiala), Guru Ke Bagh (Sri Patna Sahib) Sis Ganj Sahib (Chandni Chowk, Delhi), Gurudwara Rakab Ganj Sahib (Delhi), Bibangarh Sahib (Ropar), Sis Ganj Sahib (Sri Anandpur Sahib), Gurudwara Akal Bunga Sahib (Sri Anandpur Sahib). The coffee table book depicts the message of supreme ninth sikh guru who taught us to fight and save rights of others, its time to help each other to save the humanity from covid pandemic.
 
Harpreet Sandhu said that he has made this Coffee Table book with a sole aim to project the Gurudwaras related to Life Journey of Guru Teg Bahadur Sahib and their Historical importance, where the Ninth Sikh Guru left his foot prints and with aim to spread awareness regarding the supreme sacrifice of guru teg bahadur sahib and his laid universal teachings of world peace and unity within entire community.
 
Coffee table book was placed before the feet of Palki sahib at gurdwara guru ke mahal in Amritsar the birth place of Guru Teg bahadur sahib. Member Parliament Amritsar, Gurjeet Singh Aujla along with Chairman Punjab Pollution Control Board Prof. S.S Marwaha, Deputy Commissioner Amritsar, Gurpreet Singh Khaira, Police Commissioner Dr S S Gill released the Coffee Table Book highlighting the historical relevance of Gurudwaras related to the pious journey of Ninth Sikh Guru Sri Guru Teg Bahadur Sahib  Ji, The Coffee table Book will help spread the message of universal brotherhood and truthfulness and will imbibe values of sacrifice and uprightness within youth.
 
The said Coffee Table Book has received acknowledgment words from the desk of Former Prime Minister of India Dr. Manmohan Singh, and the prominent intellectuals from around the globe.