Coffee Table Book, titled "Sadda Sohna Punjab" acknowledged by Governor of Haryana 
The book rediscovered hidden scenic locations of Punjab, has been penned by Punjab Infotec Chairman Harpreet Sandhu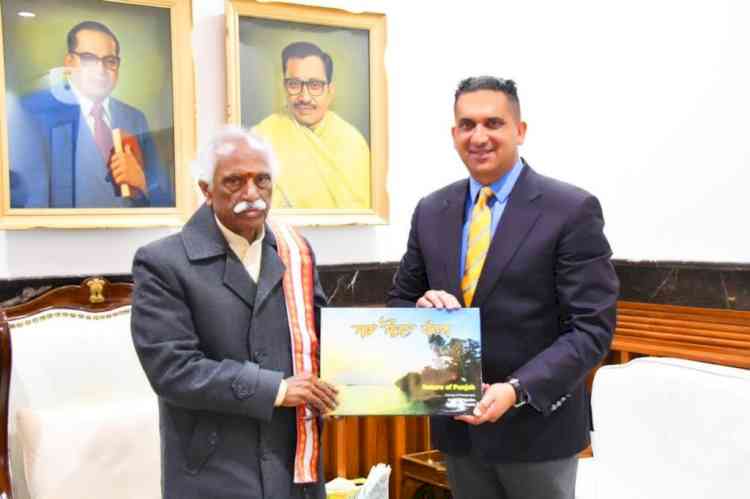 Chandigarh, December 23, 2021: Governor Haryana Bandaru Dattatreya has acknowledged Coffee Table Book titled, "Sadda Sohna Punjab" authored by Chairman Punjab Infotect and Nature Artist Harpreet Sandhu, depicting the mesmerizing nature scenes.
Haryana Governor was presented the coffee table book today morning by Harpreet Sandhu at Raj Bhawan Chandigarh
Haryana Governor appreciated the dedicated efforts of Sandhu for authoring this meaningful Coffee Table Book "Sadda Sohna Punjab" depicting nature serene.
After previewing the book, Haryana Governor said that this initiative will definitely help nature lovers of not only Punjab but from across India to get closer to the wondrous nature, witness the mesmerizing Nature locations, the beautiful panoramic views of densely populated green forests, the rich luxuriant rivers whirring with sparkling flow of rivers of being beautifully portrayed in this book.
The book carries the Foreword of Chief Minister Punjab and meaningful message of Governor of Punjab and Former Prime Minister of India Dr. Manmohan Singh, who all have described this Coffee Table Book to be of immense interest for projecting tourism prospects amongst Nature lovers enabling them to have glimpse of unseen beauty of Punjab being portrayed in 133 paged book unveiling the stunning nature locations of Punjab. The book has also beautifully amalgamates together the philosophy of Sri Guru Nanak Dev which emphasizes that the Almighty prevails in his whole creation, "Air is our Guru, Water is our Father and Earth is our Mother" and thus will inspire people of Punjab to look at nature as Devine presence of the Creator and to have loving relation with it.  
On the occasion, Sandhu stated that he has prepared this book with an aim to project the unique scenic locations of Nature portraying the stunning beauty of rivers, dams and lakes that might have been ignored by the travelers.