CMCH hosts Paediatric Oncology Nursing Workshop, 2020
Those who attended, greatly appreciate initiative of CMC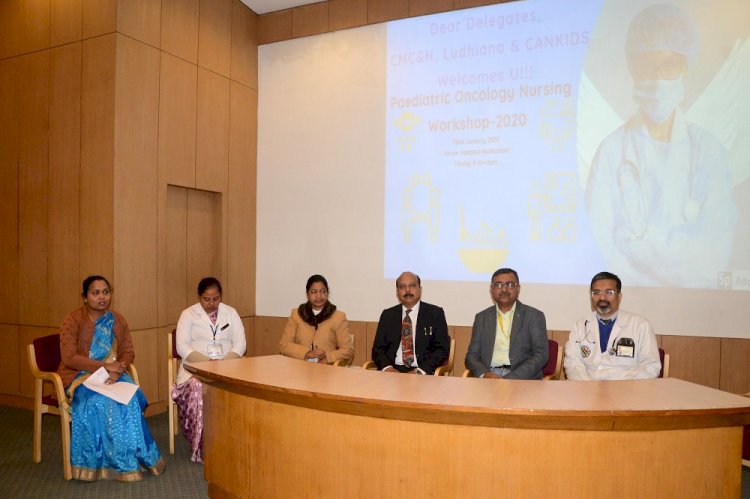 Ludhiana: Department of Clinical Haematology, Haemato-Oncology & Bone Marrow Transplant, of Christian Medical College and Hospital, Ludhiana, Punjab, hosted the 'Paediatric Oncology Nursing Workshop, 2020', in collaboration with 'CANKIDS' (National Society for change of Childhood Cancer in India) on 22nd January 2020, on the theme "Quality & Competency".
At the Inaugural function, Dr. William Bhatti, Director, Christian Medical College & Hospital, Ludhiana, spoke about the importance of 'Quality Nursing Care' in Paediatric Oncology.

A traditional lamp was lit to make the function a blessed one, and the God of divine wisdom, knowledge and understanding', was worshipped with the rendition of the song "Mere geetho ka Vishay" by B.Sc. 3rd year students from the College of Nursing.
To make the event truly environmental friendly and lower the carbon footprint of the event, saplings were gifted to all the dignitaries. The Speakers were all honoured with a Plaque recognising their contribution.
The topics that were presented were as follows: 'Treatment modalities of Cancer', 'Fundamentals of Chemotherapy', 'Blood and Blood product transfusion', Oncological Emergencies' and 'Nursing Care of BMT Patients'. Emphasis was given on skill development of Nurses through work-stations.
Government Hospital Nurses from Amritsar, Patiala, Faridkot, Jalandhar and PGI, attended the Workshop. Students and Faculty from 12 Colleges - across Punjab, Jammu and Kashmir, also registered to participate. Those who attended, greatly appreciated the initiative of CMC, Ludhiana to put forth a Workshop on this sensitive topic.