CMC develops mobile app for covid education and awareness
The current App developed by Christian Medical College Ludhiana is unique in the sense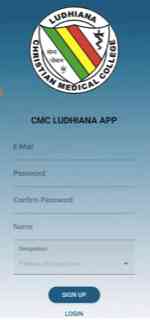 Ludhiana : The COVID-19 pandemic has paralysed the entire world. We are still uncertain about the pandemic in terms of when it will end and the quantum of global impact. India and many other countries are still seeing a surge in the number of positive cases. India is a vast country with diversity in language, culture, economy and religion. There are many people who are in the  frontline in managing COVID related issues in the population. Health care workers are the most important group who screen, diagnose and treat these patients risking their lives.
 
 
There is an overwhelming deluge of information from all quarters. This application is an effort to close the epistemic gap that exists to enable our healthcare workers to provide the best services possible. The team working on this app has garnered evidence and information from various guidelines and has attempted to present it in a clear and concise manner. This app is a result of a concerted effort over 3 months by the team led Dr Jeyaraj Pandian. The other members of the team are Dr Pranay Pawar, Dr Atul Phillips, Dr Parvez Haque, Dr John Abraham and Dr Divya Varghese. The senior faculty of CMCH has also contributed many articles.
 
The current App developed by Christian Medical College Ludhiana is unique in the sense that it is very comprehensive and covers all the essential aspects of COVID-19.  This App will help many of our health care workers in Punjab and other remote parts of the country. The app is currently available on the google play store as ' CMCL app'. It can also be accessed via the QR code.