CMA organises workshop on investor awareness program
Speakers share tips on scientific foundation of human decisions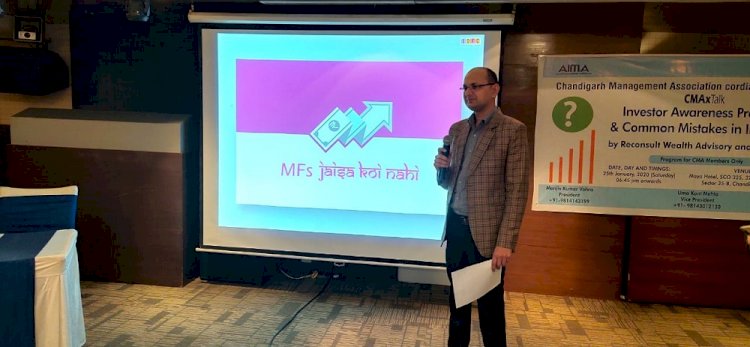 Mr Naranjan Singh, Partñer, RE Consult Wealth Advisory, sharing tips on Investor Awareness Program.
Chandigarh: Chandigarh Management Association (CMA) today organized a talk on Investor Awareness Program & Common Mistakes in Investing. It is well to note, too, that all the programs organized by the CMA are of very high order as they invite speakers of national repute who share their knowledge and experience with the members. CMA members participate in an online survey ahead of the program to set the expectations and then they share their feedback on the quality of the program, its relevance, usefulness, and the skill of the speaker. This ensures that the standard of the programs undertaken remains high.
Manjiv Kumar Vohra, President, CMA, said, "I am so glad that we organized this useful workshop for our members. We know that awareness is the key to investing. Speakers kept the audient engaged and shared tips that are easy to implement. We are happy that CMA members have enjoyed and appreciated it thoroughly."
Today's programme was organized in partnership with Re Consult Wealth Advisory. Company representatives Sonu Verma & Naranjan Singh made engaging presentations, while IDFC AMC Cluster Head Vishal Rana was the keynote speaker. All the three speakers discussed mutual funds in detail including various types of mutual funds and their  benefits above other asset classes. They also emphasized on the behavioral aspect of investing. They were quick to emphasize upon that investor behavior, rather than market knowledge determines long term investment returns and achievement of financial goals.
The speakers shared tips on scientific foundation of human decisions and the key concepts of behavioral finance. They shared insights pertaining to the reason for the difference between investment returns and investor returns and suggest ways that reduce this behavioral gap. The common investment mistakes and the reasons behind them were other major highlight of the talk. Speakers also shared tools and tips as to how to avoid those mistakes.