CM should be ready to face no-confidence motion in forthcoming assembly session: Sukhbir Badal
Demands govt repeal the farm laws as well as extend session to discuss corruption of ministers and encouragement given to gangsters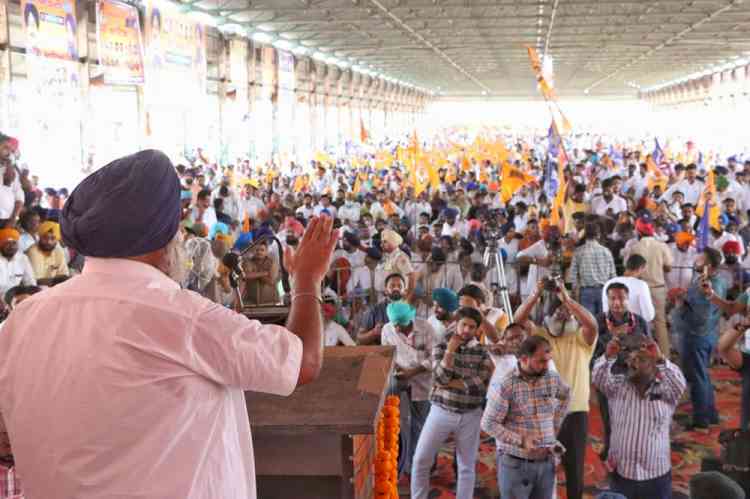 Bagha Purana (Moga), August 27, 2021: Shiromani Akali Dal (SAD) President Sukhbir Singh Badal today said chief minister Capt Amarinder Singh should be ready to face a no confidence motion in the forthcoming assembly session as he had lost the confidence of a majority of his ministers and legislators and did not have any right to remain in his chair.
The SAD President was addressing a massive gathering here after receiving a rousing welcome at the head of a few thousand youth in motorcycles. The 15 km road show from Smalsar to this town witnessed an unprecedented participation from people from all walks of life.
Talking to newsmen here, the SAD President said the chief minister should also move a resolution in the forthcoming session to repeal the three hateful agriculture laws. "Capt Amarinder has tried to befool Punjabis by moving a resolution amending the three laws. This is not acceptable at all. We demand repeal of the black laws now. If the Congress government does not do this we assure Punjabis we will do so immediately after a SAD- BSP government is formed in the State".
Sukhbir Badal also demanded the session should be held for a minimum of eight to ten days.  "Convening a one day session simply to fulfil constitutional requirements is a fraud on the people of the State". He said the government should not run away from facing the people and should answer for the corruption and scams of its ministers as well as collusion and patronisation of drug, liquor and sand mafia by its legislators. "The chief minister should tell the house why he not taking action against ministers who all were involved in corrupt deals". He said similarly Capt Amarinder Singh owed an explanation to Punjabis for the encouragement given to gangsters by his government.  "Earlier the State was witnessing rampant extortions and targeted killings. Now we are witnessing daily shoot outs".
Badal also announced the candidature of Tirath Singh Mahla from this constituency at the rally held in the Dana Mandi. He said Mahla was an honest leader who was connected to the roots. 
Badal interacted with various sections of people during his visit in the constituency. He met members of the bar association as well as professionals including doctors and engineers. He also met members of the trading community and even visited a cloth store in the main market to take direct feedback from traders.
The SAD President also made an impromptu stop at a tubewell adjoining a paddy field at Langeana Nawan village. He interacted with youth who were playing cards on the spot. The youth said they were playing cards awaiting resumption of power supply. They expressed enthusiasm about SAD promises including giving 33 % reservation in professional educational institutions to students from government schools besides reserving 75 % jobs in industrial units for Punjabis.
Earlier, while addressing public meetings in the constituency, Badal said the SAD had always fulfilled the promises made to the people. "Be it making providing free power to farmers or making the State power surplus, we have always honoured our commitments". He said the forthcoming SAD- BSP government would also honour all the commitments being made now including giving a Rs 2,000 per month grant to women heads of BPL families, Rs 10 lakh study loan to students and 400 units per month free power.