CM inaugurates and lays foundation stones of 17 developmental projects of Rs.283.19 crore at Dharamsala
The Chief Minister also distributed laptops to the Patwaris of Revenue department for ensuring efficiency in their functioning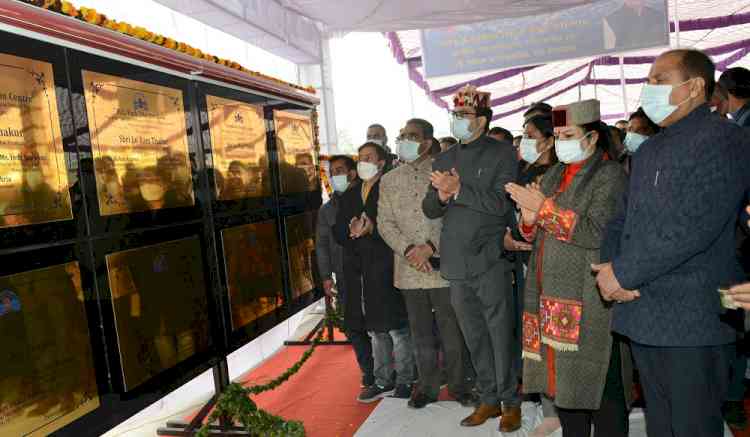 Dharamsala, January 19, 2022: Chief Minister Jai Ram Thakur inaugurated and laid foundation stones of 17 developmental projects worth Rs. 283.19 crore at Dharamshala in Kangra district today, which includes inauguration of Dharamshala Skyway constructed at a cost of Rs. 207 crore earlier this morning.
Jai Ram Thakur inaugurated Rs. 6.30 crore Dhauladhar Convention Center, Rs. 2.88 crore Parking at DC office Dharamshala, Rs. 8.40 crore Dhauladhar Garden, Rs. 6.50 crore development of Aghanjar Mahadev Temple complex, Rs. 97 lakh development of Municipal Park Dharamshala, Rs. 10.50 crore restoration of Chamunda Temple, Rs. 4.63 crore Art and Craft Center Rajiyana, Rs. 3.60 crore improvement of Brajeshwari Temple Complex, Rs. 4.35 crore development of Mata Bagh Kangra and Rs. 14.34 crore Parking at Jwalamukhi constructed under ADB.
Chief Minister also performed inaugurations of Rs. 3.58 crore village Haat, Kangra, Rs. 2 crore Type-IV quarters of RFSL, Rs. 2 crore Biscuit Plant of Milkfed at Dhagwar and Rs. 1.58 crore DNA and Cyber Complex blocks of RFSL.
Jai Ram Thakur laid foundation stones of Rs. 1.06 crore advanced instrument Lab, RFSL and Rs. 3.50 crore Regional Lab H.P. State Pollution Control Board, Dharamshala.
Later, while addressing the people on the occasion, the Chief Minister said that the Dharamshala-Mcleodganj Ropeway would go a long way in giving a boost to tourism development in the town. He said that despite the pandemic, the ropeway was completed within the stipulated time. He said that this project would prove a milestone for providing alternative modes of transport to the tourists as well as general commuters. He said that this ropeway has been constructed by using the latest world class technology. He said that the executors of this project should evolve a mechanism to introduce a kind of pass for daily commuters he has asked.
 Jai Ram Thakur said that the State Government was committed to develop lesser known places from a tourism point of view, under the Nai Raahein Nai Manzilein scheme. He said that Chanshal in Shimla district was being developed as Skiing and winter sports destination, Janjehli in Mandi district as an eco-tourism destination, Bir Billing in Kangra district as adventure sports destination and Pong dam as a water sports destination. He said that all these projects on completion would attract tourists from all over the world.
The Chief Minister said that the State Government during the pandemic, gave top priority to strengthen health infrastructure in the State. He said that there were only two oxygen plants in the State about two years ago, whereas today as many as 48 oxygen plants were providing best services to patients. He said that Himachal Pradesh became the first state in the country to achieve a cent per cent target of first and second dose vaccination of eligible population and also the first state in the country in cent per cent vaccination of 15 to 18 years age group. He said that the increase in the number of covid-19 cases was still a matter of concern. He urged the people to ensure covid appropriate behavior.
Jai Ram Thakur said that under the Chief Minister HIMCARE Yojna 5.13 lakh families have been registered and 2.20 lakh families have been provided financial benefits of about Rs. 200 crore.  He said that under the Ujjwala Yojna of the Centre and Grihini Suvidha Yojna of the State Government, more than 4.69 lakh families of the State have been provided with free gas connections.  He said that recently the Prime Minister Narendra Modi dedicated and laid foundation stones of developmental projects worth Rs 11,500 crore to the people of the State at Mandi on completion of four years tenure of the present State Government.
The Chief Minister also distributed laptops to the Patwaris of Revenue department for ensuring efficiency in their functioning. MLA Dharamshala Vishal Nehria said that as many as 7000 smart street lights would be installed in Dharamshala town. He said that parks and playgrounds were being constructed in the city. He said that Dharamshala town was poised to become the Smart City of the State. He said that an international convention center was also coming up in Dharamshala town.
Member of Parliament Kishan Kapoor, Social Justice and Empowerment Minister Sarveen Chaudhary, Industries Minister Bikram Singh, MP Indu Goswami, Deputy  Chairman State Planning Board Ramesh Chand Dhawala, MLA Baijnath Mulkhraj Premi, State BJP Mahila Morcha President Rashmi Dhar Sood, Chairman MILKFED Nihal Chand Sharma, Chairman Woolfed Trilok Kapoor, District BJP President Chander Bhushan Nag, Director Tourism Amit Kashyap, Deputy Commissioner Dr. Nipun Jindal  and other senior officers were present on the occasion among others.