Climate smart agricultural practices shared with farmers by Amity University   
The program was attended by 30 farmers, including 12 women from 9 different villages from the nearby locality on both days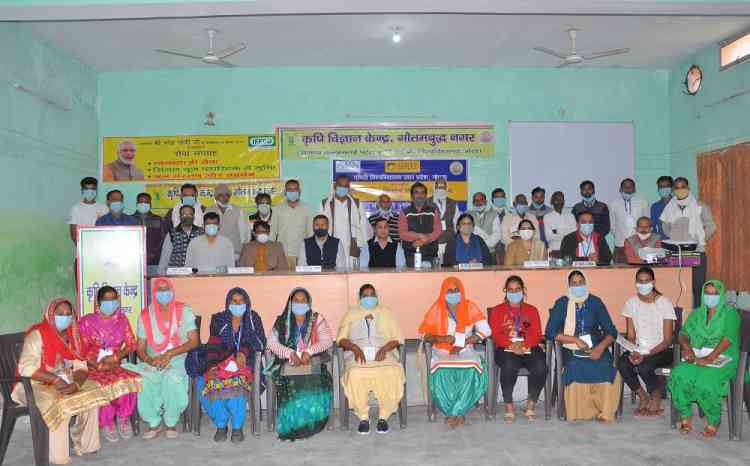 Participants of the Farmers Training Workshop.
A two-day farmers training program was organized by Amity Food and Agriculture Foundation, Amity University Uttar Pradesh (AUUP) at Krishi Vigyan Kendra (KVK), Gautam Buddha Nagar. Sponsored by Asia-Pacific Network for Global Change Research (APN), the mission of the program was to "Enhance Farmers Capabilities to Address the Challenges of Climate Change Using Climate Smart Agriculture Strategies".   
  
Dr. Ashok K Chauhan, Founder President, Ritnand Balved Education Foundation shared his passion for contributing towards improving Agriculture in the country. He felt delighted in witnessing the active participation of farmers to learn about adapting climate smart agriculture practices which is the need of the hour to increase their income.   
  
"Increasing temperature is a great challenge for sustainable agriculture and we must find ways to develop new practices to maintain the crop productivity," said Dr. Nutan Kaushik, Director General, Amity Food and agriculture Foundation. She explained about climate change and how it is adversely affecting the agriculture along with other aspects of life. She also emphasized on diverse effects of climate conditions on agriculture including the increase of insects and pests due to increase in climate temperatures. Dr. Kaushik further elaborated the climate smart practices to address the challenges of climate change efficiently.  
 
Dr. Mayank Rai, Head, KVK, Gautam Budh Nagar elaborated on how KVK is committed to take part in all training activities for the betterment of the farmers by teaching them new technologies. He elaborated on different climate smart practices of agriculture being utilised at his center to train farmers.   
  
Dr. R. S Antil of AUUP talked about the importance of carbon fixation in controlling climate change effects. He also explained the importance of soil testing and soil card for farmers in long term, a flagship program of Prime Minister Shri Narendra Modi.   
  
Dr. Harshwardhan Chaudhary from Indian Agricultural Research Institute (IARI) explained the importance of vegetable cultivation to cope with climate challenges for small farmers. He discussed about numerous and different varieties of vegetables suitable for diverse range of climatic conditions.   
  
The program was attended by 30 farmers, including 12 women from 9 different villages from the nearby locality on both days.