Cleo County organises covid vaccination camp for residents and staff
The vaccination camp went on for two and a half days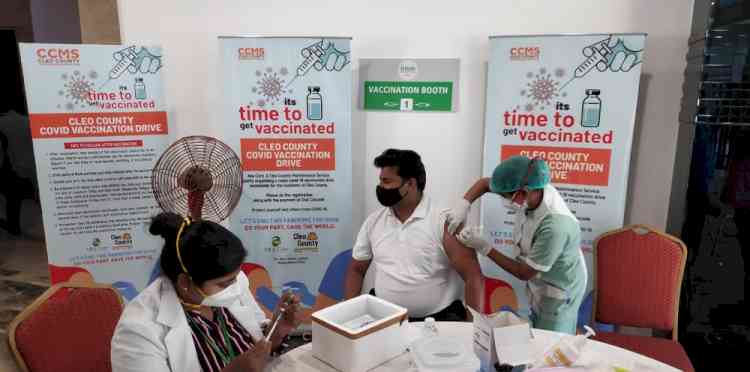 Noida based real estate developer ABA Corp organising an in-house vaccination drive.
Noida: 
Noida based real estate developer ABA Corp organised an in-house vaccination drive for the residents and staff members of their residential society – Cleo County. The vaccination camp went on for two and a half days in which a total of 884 people were given Covishield jabs including 386 residents and 498 staff members. For this, the group tied up with Fortis Noida via its CSR arm County Foundation for setting up the paid vaccination camp.
The vaccination drive eased the trouble faced by the residents and staff members to get the slots at government sites due to unavailability of the jabs. The group housing society had asked the residents to register for the vaccination, and 500+ registrations were received for the drive event.
The cost of the vaccination was INR 1050/- per dose, this amount included the INR 200/- per dose charged by Fortis as administration charges for in-house vaccination services.
"Our aim is that all the residents, residing in our group housing projects get inoculated. These are challenging times, and everyone has to contribute to ensure that we win the fight against corona. The health of each resident is of prime importance for us; we hope to complete the exercise soon, in our other group housing projects as well. In fact we have also seized this opportunity get our employees and frontline third party vendor workers like guards, housekeeping workers and facility management staff to get vaccinated as well, with an added encouragement that County Foundation will sponsor the cost of vaccination for all the workers, to achieve proper results we have to make sure that every one residing in the campus, residents as well as staff is properly vaccinated to stop further surge of the virus in the vicinity" shared Amit Modi, Director ABA Corp. and Trustee, County Foundation.
Gaurav Massih, Property Manager, Cleo County said, "The camp has been set up at the Club Cascade Cleo County. We laud the initiative undertaken by the County Foundation to provide vaccination to the residents and staff members of the society since, people were worried about the shortage. Along with the vaccination, other safety precautions are strictly being followed in the society premises to contain the spread of the virus. Close attention is being paid to regular sanitisation, maintenance of social distancing and frequent temperature checks."