Classes to start from August at Agriculture College Ballowal Saunkhari: MP Manish Tewari
Meeting with officials at the Regional Research Center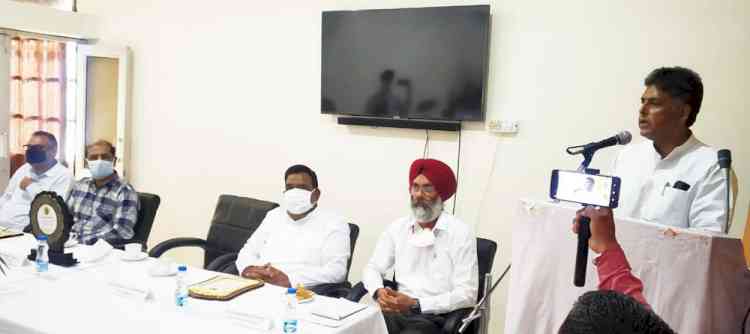 Balachaur: Classes will start from August at the Agricultural College being set up at Ballowal Saunkhari, Regional Research Center, Punjab Agricultural University. This was stated by Member Lok Sabha from Sri Anandpur Sahib and former Union Minister Manish Tewari during a meeting with officials at the Regional Research Center here today in the presence of MLA Balachaur Darshan Lal Mangupur and Punjab Large Industrial Development Board Chairman Pawan Dewan. He said that the first installment of Rs. 13.70 crore has been released by the Punjab government for the construction of this college at a total cost of Rs. 34 crore. He said that with the construction of this college, the needs of the students belonging to Nawanshahr, Rupnagar and Hoshiarpur districts would be met as the center was well connected with Ludhiana, Chandigarh, Jalandhar and Hoshiarpur. He said that four years and six years degree (B.Sc. and M.Sc.) would be offered in this agricultural college.
Constituency MLA Chaudhary Darshan Lal Mangupur said that this college would prove to be a milestone for the development of Kandi area and would be a boon for the youth of the region. He said that with the launch of this college the youth of the area would get quality education and employment opportunities. Mr. Chaudhary Mangupur felicitated the Chief Minister Capt. Amarinder Singh, Finance Minister Mr. Manpreet Singh Badal and Mr. M.S. P thanked Manish Tewari for the appointment.
On the occasion, Regional Research Center Director Manmohan Jeet Singh, S. D. M. Balachaur Deepak Ruhela, D.S. P Tarlochan Singh, Prem Chand Bhima, Chairman Harjit Jadli, Sandeep Bhatia, Youth President Hira Khepar, Rajinder Singh Shindi, Madan Lal Hakla, Vijay Rana, Naveen Chaudhary, Des Raj and other personalities were present.