City-based senior citizen Satish Kumar Thaman unsatisfied with replies given to him by GMT Ludhiana 
Writes to higher authorities for justice and appropriate replies to his queries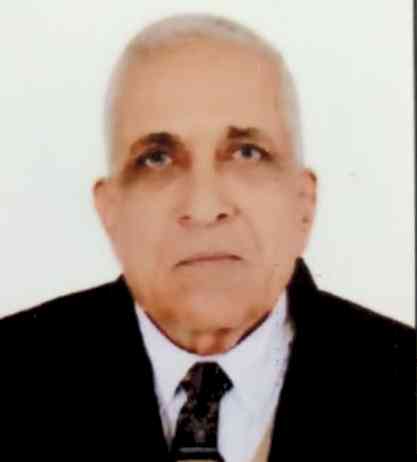 Satish Kumar Thaman, a retired JTO.


Ludhiana: City-based senior citizen Satish Kumar Thaman, a retired JTO has written to Mukul Dixit, Section Officer O/o Secretary, Department of Telecommunications, and Anant Kumar, Section Officer O/o Secretary, Department of Telecommunications, requesting for urgent need to constitute SIT (Special Investigation Team) and FFC (Fact Finding Committee) to enquire of the denial of basic fundamental requirements to BSNL employees and retirees (case of Satish Kumar Thaman Retired JTO- retired on 31.07.2003 and entered at the age of 78 years).

He has also urgent need to forward his comments to Prime Minister Narendra Modi and Communication Minister Ravi Shankar Prasad as reply given to elderly senior citizen retiree of 78 years is not correct and against rules and procedure of natural justice and fair play. 

He has pointed out that the reply given to him by GM, Telecom Ludhiana Administration is not understood and elderly senior citizen is feeling discouraged, isolated and disheartened, as point raised in his communication dated 23.7.2020/25.7.2020 are for the welfare of all employees and the retirees of BSNL and receipt of half-hearted reply from (a) to (l) is full of lies, mis-conceived, unwanted and unwarranted, therefore, Communication Minister, may constitute SIT and FFC to complete and formulate details of the point from (a) to (l) and retiree may not to be compelled to submit application under RTI Act of 2005 for details of reply of the points from (a) to (l) otherwise the retiree will seek information through legal manners. The main issue of delay of payments of medical bills by the Ludhiana GM Telecom Administration since 1.4.2019 is lingering on badly and is at loggerheads and retiree pensioners may not leave this universe without the receipt of the justified reply and payment of the medical bills w.e.f. 1.4.2019. 

Concluding, he has requested to kindly look into the matter and supply him full details, otherwise his lawyers will approach and file complaint with every legal channel.