Citizens of Ludhiana and Trade Unions hold rally
Protest against attack on students and teachers at JNU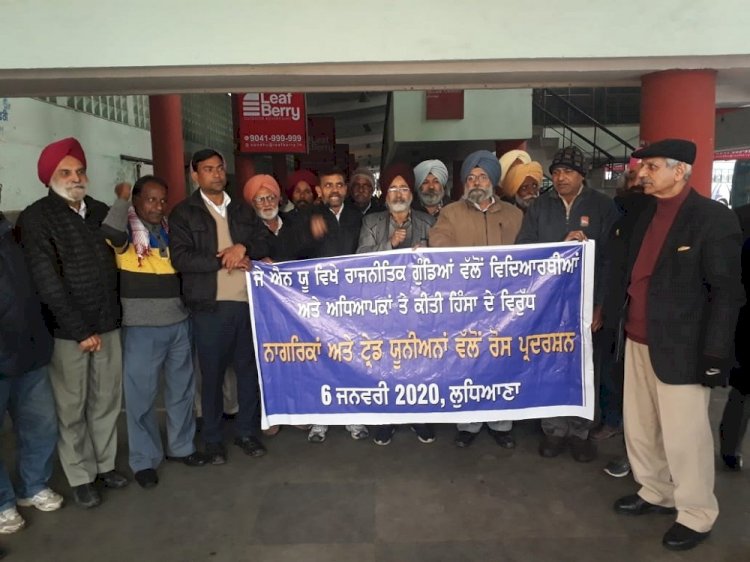 Ludhiana Citizens and Trade Unions hold a protest rally in Ludhiana on Monday.
Ludhiana: The Citizens of Ludhiana and Trade Unions held a protest rally and procession at the Bus Stand here today against the violence unleashed by the alleged organised political goons at the JNU last night. 
Various speakers condemned in equivocal terms brutality of goons in JNU yesterday. Our heart bleeds for all those youngsters who were non-violent and still beaten mercilessly by these goons with sticks and stones. The most frustrating part was that the saga continued unabashed in this era of instant communication, and police did not interfere. 
"We also protest about the police and University security was absent for all the time theses goons were attacking and hitting women, students and teachers", they said, adding, "Acting as mute spectators and even when the team of doctors as well as ambulance from AIIMs was blocked outside JNU campus. Whereas on one side the attack on women is a shame to Indian culture on the other side this is a Violation of Geneva convention on health care which says that even during war times health care not be prevented." 
They added this is a clear pointer to that the whole incident was pre planned by the higher ups in connivance with the police. It remind us of the history when Nazi gangs attacked peaceful citizens in Germany and the Nazi government falsely tried to blame the pro people forces for their goondaism. 
It is a matter to be noted that such incidents are happening in the states ruled by the BJP. In fact their whole narrative of generating communal riots after the CAA has failed and they are now frustrated, thus resorting to such acts.
The miscreants and those who have instigated this attack should be punished at the earliest and also to see that no such incidence occurs again. They appeal to the Supreme Court to take suo-moto notice and take necessary action.  "We stand in solidarity with all those who are injured, hurt and may be fighting for life; we demand that genuine demands of students be met too", they said.
Those who addressed the gathering include Prof. Jagmohan Singh, Dr Arun Mitra, D P Maur,  M S Bhatia, Jagdish Chand, Jitendra Pal, Amarjeet Mattu, Dr Guzar Pander, Surinder Singh, Rramesh Ratan, Vijay Kumar, Md Shafiq,  Raghbir Singh Benipal, Satish Sachdeva, Harjinder Singh, Rajwinder Singh,  Surinder Kelley, Sukhwinder Singh Lotey, Anod Kumar, Ramchand, Samar Badhar, Bagga Singh, Balram, Vinod Kumar.