CICU signs MoU with Indo-Japan Business Council
MoU will set up a Desk jointly with IJBC, which will add value not only for members but also for the Ludhiana Industry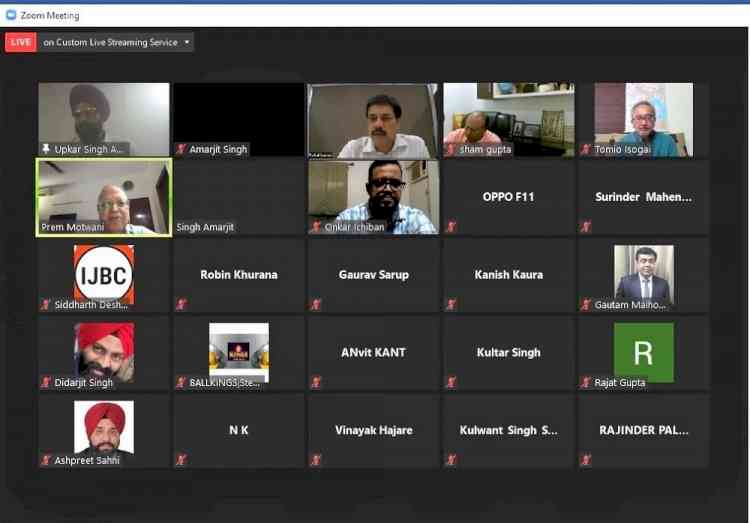 Ludhiana: Chamber of Industrial and Commercial Undertakings (CICU) Ludhiana in collaboration with Indo-Japan Business organized a zoom webinar on 'Make in India' - Challenges & Opportunities.
Upkar Singh Ahuja, President, CICU shared his view based on his experience of manufacturing in India and about the Japanese techniques success being used by Indian Industry like make job easier, priority on safety at top, Do things right the first time, Time Management, PCDA continuous improvement, Kaizen, 5s, Increase productivity, Helper free units, OEE for measuring manufacturing productivity, Yield Improvement, Make product Faster, Better, cheaper and others.
Further he mentioned that an MoU has been signed between CICU & Indo-Japan Business Council, which will set up a Desk jointly with IJBC, which will add value not only for members but as well as for the Ludhiana Industry. He added that numerous industrial houses are interested in joint ventures.
Pankaj Sharma, General Secretary, CICU while welcoming the dignitaries gave a brief introduction of working at CICU.
Dr. Prem Motwani, a retired professor at JNU also shared his experience and highlighted about becoming World-class: Lessons from Made in Japan. He also gave a presentation on the current situation of "Make in India". He encouraged the industry to read his book, which offers ways forward for India Inc and will definitely help owners/MDs and management teams to explore new dynamics for the manufacturing sector.
Tomio Isogai, Ex. MD of Sharp India gave a presentation on the geographical history of Japan and shared his views based on his own experience of manufacturing in India. He also talked about numerous methods being used by Japanese industries for smooth working. He also emphasized by saying let's build a solid partnership for our prosperous future.
Siddharth Deskhmukh, President-IJBC, Abhishek Choudhary, Vice President-IJBC also present in this webinar.
The webinar was attended by more than 100 participants.