CICU organized 6th CICU Corporate T-20 Cricket Tournament- 2019-20
Tournament is sponsored by many leading companies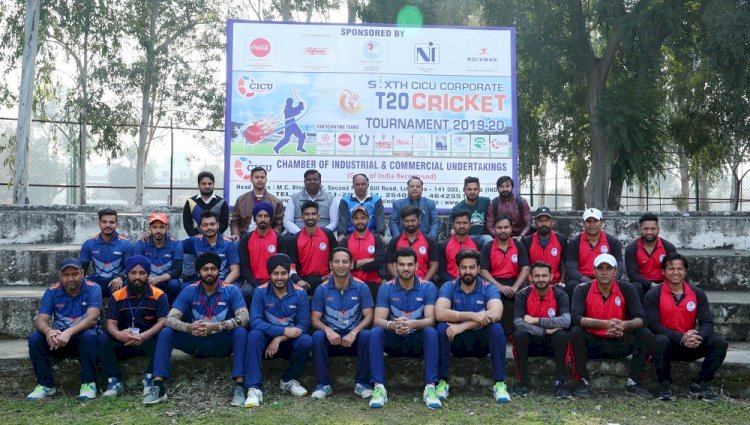 Ludhiana: The match of 6th CICU Corporate T-20 Cricket Tournament- 2019-20 was played between the teams of Highway Industries Ltd. v/s. New Swan Enterprises - II at Cricket Ground of SCD Govt. College for Boys Ludhiana on 9th Feb. 2020 (Sunday).
 
The toss was won by New Swan Enterprises - II and they decided to bat first. NSE - II scored 132 runs in 20 overs by losing 10 wickets and Highway Industries Ltd. scored 120 runs in 19.2 overs by losing 10 wickets. NSE-II won the match by 12 runs. Kashish batsman of NSE-II scored 24 runs with 4 fours in 19 balls and Nitin bowler of NSE-II took 4 wickets in 4 overs by giving 23 runs. They were declared best batsmen and best bowler of the match.
 
This tournament is sponsored by many leading companies including Highway Industries Ltd., Ludhiana Beverages Pvt. Ltd., New Swan Enterprises and Nicks (India) Tools.
 
Upkar Singh Ahuja President CICU said that now cricket has become India's national sport. Chamber of Industrial & Commercial Undertakings is proud to be hosting the Sixth Corporate T20 Cricket Tournament. Playing cricket develops social skills, intellectual capacities & creativity and contributes a more disciplined attitude. Sports are integral part of corporate team building and motivation. CICU endeavour is to build up a team spirit and develop expertise so as to help, support and grow corporate business to achieve new heights by shaping the industries of tomorrow. He congratulated the winner team namely New Swan Enterprises - II.
 
Pankaj Sharma, General Secretary, CICU said that Ludhiana is full of cricket fans and a lot of enthusiasm is seen among youngsters for this tournament. Watching your sport live at the cricket ground is a fun filled and awesome experience.
 
Many cricket lovers including senior management persons enjoyed the live Cricket. They appreciated the arrangements made by CICU Management at the Cricket Ground.