CICU members interact with ADC(D)
The officer appreciates the working of CICU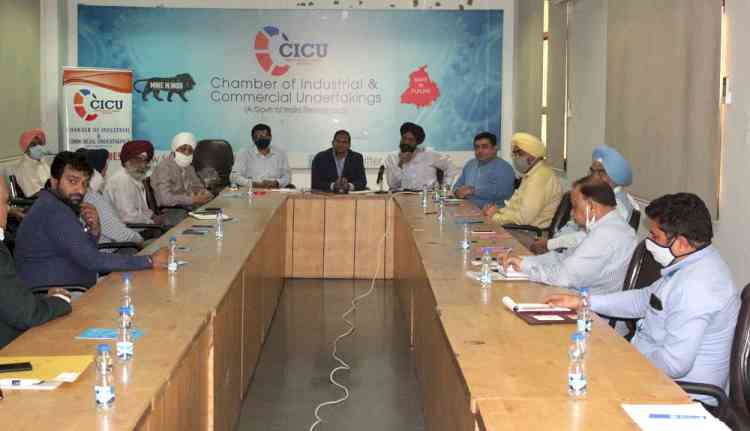 Ludhiana: Chamber of Industrial and Commercial Undertakings (CICU) members interacted with Sandeep Kumar, Additional Deputy Commissioner (Development), Ludhiana.

Upkar Singh Ahuja, President, CICU shared the working of CICU for the industry as well as for the economy. He also suggested that there is a need to focus on employment in rural areas especially for the youths. Due to non-availability of transport, they are unable to get livelihood in the industry. He suggested that Govt. should starts the bus service from their area to the industrial areas.

Pankaj Sharma, General Secretary, CICU highlighted that the workers are forced to live in Vehras, where, there is no proper cleaning and arrangements. He suggested that a pilot plan should be designed to provide better living to the workers.
Sandeep Kumar, IAS - Additional Deputy Commissioner (Development), Ludhiana appreciated the working of CICU and said that there are numerous schemes of the Centre and State Govt. made for Industry, but due to lack of awareness, they unable to avail these benefits. There are some following points discussed by him:
•    Workers should be certified by Recognition of Prior Learning to brushing their skills, so they can able to perform better.
•    To make big entrepreneur a program named Xcelerator Ludhiana Program (GAME) has been started, in which 30 successful industrialists will guide to boost MSMEs' growth.
•    To provide more employment to youth in industry, he will definitely look into the matter.

The meeting was attended by more than 50 members some namely by Avtar Singh Bhogal, Phuman Singh, Lokesh Jain, Jaspal Singh Sall, Ram Lubhaya, S.B Singh, Sanjay Dhiman, Gautam Malhotra, Sudarshan Gosian, Charnjiv Singh, Rajiv Kalia and other prominent member of CICU.