CICU LUDHIANA AFFILIATED 33 INDUSTRIAL ASSOCIATIONS SHARE THEIR ISSUES AND SUGGESTIONS 
DISCUSSED SITUATION IN VIEW OF COVID 19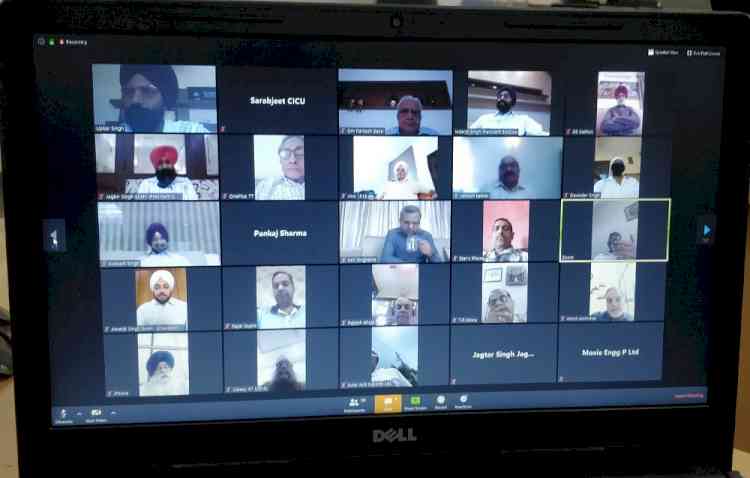 Ludhiana: Upkar Singh Ahuja, President and Pankaj Sharma, General Secretary, Chamber of Industrial and Commercial Undertakings (CICU), Ludhiana arranged a zoom meeting with Industrial Associations to discuss the issues and suggestions to the State & Centre Govt. in view of COVID-19.
They highlighted these following points:
•    Banks should reduce the rate of Interest, Increase limit by 20% of all Units
•    Govt. should defer the notification of FIR against industrialists, if some worker found Crona positive.
•    Simplification in permission to run the industry after lockdown.
•    Govt. should include Industry representative in Govt. Council and Committees.
•    Medical insurance of workers are too high to pay by industry, it should be reduced or ESI should bear the all expenses any worker suffering from Crona
•    Special Package should be given to the MSME by the Govt. 10% of the Turnover
•    Wages should be given by the Govt to the workers, from the various fund available.
•    Relaxation in GST rates @4% on all slabs.
•    5% incentives to be given on all exports It will boost export from India
•    Govt. committee should be formed to resolve the issues of MSMEs.
•    Service sector to be given relaxation at par of Manufacturing.
The meeting was attended by Presidents of Associations by namely Gurpargat Singh Kahlon (President) Auto Parts Manufacturers Association (India.), Kulwant Singh (President), Confederation of Industrial Machinery Manufacturers, Narinder Bhamra (President) Fasteners Manufacturers Association of India, Rajnish Ahuja (President), Focal Point Indl. Sheds Association, T.R. Misra (Chairman), Federation of Dyeing Factories Association,   O.P. Bassi  (President) Focal Point Phase VIII Industrial Association,  Vinod Thapar Presdient & Mr. Charnvir Singh Knitwear & Textile Club (Regd.,), Inderjit Singh, President Sewing Machine Dealers & Assemblers Association (Regd.), President Jagtar Singh   Association of Ludhiana Machine Tool Industries, Jagbir Singh Sokhi (President) Sewing Machine Development Club, Amarjit Singh, President Ludhiana Sewing Machine Inds. Association (Regd.) Surinder Mahendru (President), Punjab Forging Industries Association, Maninder Pal Singh (President), Advanced Cutting Tools Association, Rajinder Singh Sarhali (President), Small Scale Industries & Traders Association, J.P. Singh Jiwan  (President) Cutting Tools Manufacturers Association, Vinod Vashisht (President) All India Steel Rerollers Association, S. Davinder Singh, Punjab state United Association, Didarjit Singh, Rajat Gupta and other members.