CICU holds video conferencing with Chairman of Punjab Water regulation and Development Authority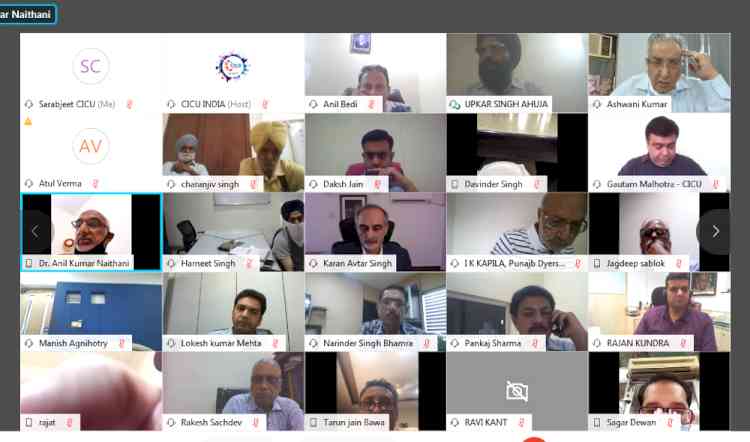 Raises various issues to resolve them
Ludhiana: Upkar Singh Ahuja, President, Chamber of Industrial and Commercial Undertakings (CICU), Ludhiana said that a video conference was arranged to discuss the matter of use of ground water for industry, which is pending from very long time. Central Ground Water Authority (CGWA) issued various notice on drowning of water. Therefore, CICU approach Karan Avtar Singh, IAS, Chairman, Punjab Water regulation and Development Authority to get the transparency of the issues. He also added some valuable point as following:
•        MSME consume 50,000 Ltr. water per day must be relaxed.
•        Mechanism for surface water usage to be develop.
•        Re-Audit of Black Zones declare by NGT.
•        Rain water harvesting to be allowed in the Industry.
•        Cess on water must be minimum.
The Members have raised various issues/ suggestion and requested Chairman to resolve them.
Karan Avtar Singh assured that Interest of MSME would be taken care. There are pending application of Ground Water extraction, Now Punjab Water regulation and Development Authority will handle the application and PWRDA is at first stage & will frame new guidelines in consultation with all stake holders, NGT guidelines are applicable on all States of India.
Moreover, Punjab Water regulation and Development Authority is in process to form the rules & regulation for Ground Water extraction, Chairman Punjab Water regulation and Development Authority will interact regular with Industries to make the hassle-free systems for them.
Pankaj Sharma, General Secretary, CICU was presented vote of thanks and thanked Karan Avtar Singh for valuable interaction.
The meeting was attended by S.C Ralhan, Amit Thapar, Vijay Mehtani Narinder  Bhamra , Charanjiv Singh, Jaswinder Bhogal, Ashwani Kumar, Lalit Jain, Rajat Sood, Tarun  Jain Bawa and other member of the CICU and prominent Associations.