CICU and affiliated associations discussed issues related to industry
The discussions held with Hussan Lal, Principal Secretary, Industries and Commerce, Punjab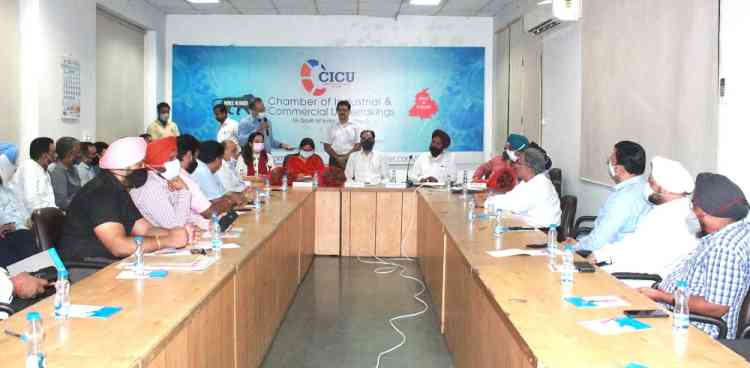 Ludhiana, September 7, 2021: CICU and affiliated associations discussed issues related to the industry with Hussan Lal, Principal Secretary, Industries and Commerce, Punjab.
Upkar Singh Ahuja, President, CICU (Chamber of Industrial and Commercial Undertakings), Ludhiana highlighted the issues like VAT & GST Refunds, Building Plan Approval, Roads in 1 Zone, Phase-8 Enhancement, Pocket for MSMEs in Dhanansu Focal Point, Industry in Mix Land Areas, Upgradation of Facilities at Local ESI Hospitals, MSME in Punjab (Technical upgradation will be prioritized), Skill development and Employment to youth and others.
Pankaj Sharma, General Secretary, CICU emphasized about the Punjab State Power Corporation Limited (PSPCL) issues like Smart Meter of LS, Relaxation in Fixed/ Demand charges and Electricity Duty in the Electricity Bills, Industry demands that PSPCL should upgrade its infrastructure in the city and State Govt. should provide electricity at Rs 5 per unit as promised.
Hussan Lal, Principal Secretary, Industries & Commerce, Punjab appreciated the working of CICU for the benefit of the Industry. He also assured that all the issues being faced by industry will be resolve soon.
Neelima, MD, Punjab State Small Industries and Export Corporation (PSIEC), Sibin C, Director, Industries & Commerce, Punjab, Neeru Katyal, ADC and officials from DIC, NSIC, PSIEC were also present in the meeting.
The vote of thanks was presented by J.S Bhogal, Publicity Secretary, CICU.
The meeting was attended by senior industrialists by namely Darshan Dawar, Presdient, Knitwear Club, S.B Singh, Joint Secretary, CICU, Narinder Miglani, Amarjit Singh Swan, President, Ludhiana Sewing Machine Inds. Association (Regd.), Charanjiv Singh, Vinod Thapar, from Kniwear Club,   T.R Misra, Sanjay Dhiman, Gautam Malhotra, Amit Mehta, Amarpreet Singh, PSIEC, Manjit Singh DIC and other prominent members.