Christmas quotes from Sony SAB artists
Dev Joshi says, this year, we had a lot of fun on the set of Baalveer Returns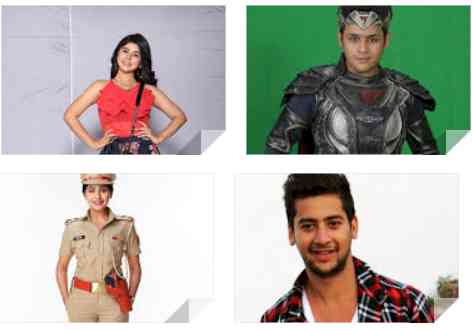 Yukti Kapoor (Karishma in Sony SAB's Maddam Sir)
As a child, I used to believe in Santa, and I would usually keep socks under my pillow, expecting Santa to come and leave me gifts in that. It was a fun time. Now, for this Christmas, I meet my friends, we have dinner, and I go to the Mount Mary Church in Mumbai's Bandra. I love going there on Christmas as it has such positive vibes during that time. This is my plan for Christmas this year as well.
I usually become a secret Santa for my brothers as I love giving them gifts. So, this time as well, I am going to send them Christmas gifts just to see that smile on their face. I am also my own Santa. I feel it's important to always be your own Santa, keeping yourself happy and pampered and gifting yourself lots of gifts.
Yesha Rughani (Zara in Sony SAB's Hero- Gayab Mode On)
I remember we used to have such grand celebrations for Christmas in school and I would always participate in skits and choir.
I love being a secret Santa for others my dad is truly my Santa. The moment I have a wish in my mind, it is fulfilled. I don't even have to say it most of the time. I am grateful to have him as my super cute Santa because he makes me feel so special. This is also what motivates me to do something for others and make them feel special, in other words, being their Santa. I get joy in giving.
Paras Arora (Dr. Pramod in Sony SAB's Kaatelal & Sons)
Since I am from Bareily, the weather used to be very cold during Christmas and days would get short. I used to love that and for that reason, I would wait for Christmas eagerly. During childhood, everyone in our society used to be very excited for Christmas party, where we got to meet our friends, have delicious cake and enjoy ourselves. I would also eagerly wait for Santa to come and fulfil my dreams.
However, I truly feel that my mom is the Santa of my life. I can not imagine my life without her. She is the one who understands me, supports me at every phase of life and fulfills all my wishes, without me asking for it.
Dev Joshi (Baalveer in Sony SAB's Baalveer Returns)
I love the spirit of Christmas and have always enjoyed celebrating it since my childhood. I still believe in Santa Claus and wait for a gift from him every year on Christmas. I usually get some small thing that I need, either it is my favourite pencil or favourite Compass Box. My Santa does not gift me too costly things, but yes, the presents make me very happy every year. It is these little things that usually bring a smile on our faces.
This year, we had a lot of fun on the set of Baalveer Returns where we shot for a Christmas story. There are going to be a lot of surprises for the viewers as they will get all Christmas vibes in the upcoming episodes. We are also going to the North Pole. I hope the audience enjoys it.