Christian Medical College and Hospital adds newer treatments in neuro and vascular intervention 
The hospital now provides treatment to enormous vascular and non-vascular conditions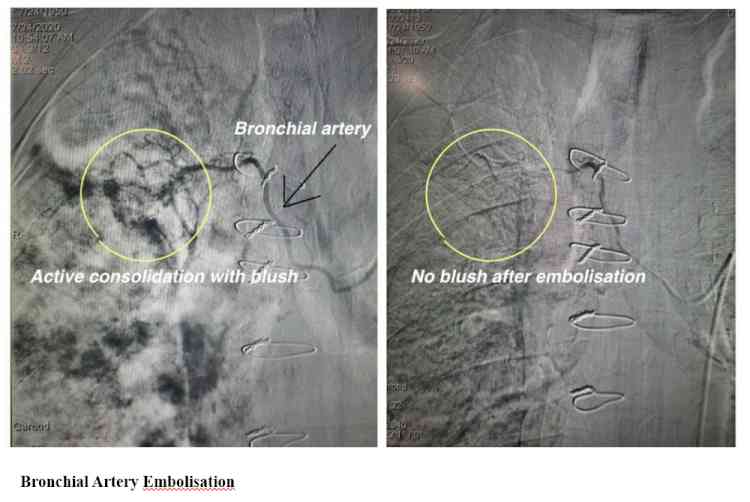 Ludhiana: The Digital Subtraction Angiography ( DSA Cathlab) under the Division of Neuro and Vascular Intervention in Department of Neurology at Christian Medical College & Hos-pital is a state-of-art lab offering advanced diagnostic and treatment procedures for various neuro and peripheral vascular and non vascular pathologies.  The hospital now provides treatment to enormous vascular and non vascular conditions through a "pin hole" approach reducing surgical risks, avoiding major scars with shorter hospital stays, lower costs, greater comfort, quicker convalescence and return to work. 
About Endovascular Interventions:
Dr Anirudh Kulkarni, Assistant Professor in Neurology who has done fellowship in Neuroin-tervention stated that Stroke or brain attack is the leading cause of death and disability. "Ear-ly treatment of stroke is of paramount importance as it can reduce the disability associated with stroke". Recent advances in stroke treatments have introduced newer treatments like removal of the clots that block the blood supply to brain by using special stents called "clot retrievals". These treatments are only available at the Neuro cathlab CMC & Hospital, Lu-dhiana.
Dr Vivek Agarwal has joined CMC and Hospital, Ludhiana as Assistant Professor in the Di-vision of Neuro and Vascular Intervention, Department of Neurology. He has been trained in Neuro and Vascular Intervention procedures from premiere Institutes of India like PGIMER, Chandigarh and SGPGIMS Lucknow. He stated that neuro and vascular interventions are minimally-invasive image-guided procedures to diagnose and treat diseases in nearly every organ system. Interventional radiology, or IR, is a new specialty that has been responsible for major recent medical advancement. It is at the forefront of medical technology and inno-vation. These procedures done by minimally invasive pin hole approach have less risk, less pain, less recovery time and leaves no scars in comparison to open surgery. In many circum-stances, open surgery can be avoided and the risks to the patient can be lowered with faster recovery times. IR can also be used as an adjuvant to surgery and combined procedures with surgeons can optimise patient care. IR has made significant life saving impact on patients presenting with acute conditions like stroke, haemorrhage,  peripheral vascular occlusions and trauma. This new technology is available in only select premier institutes and CMC is offering 24hours coverage to have major impact on the lives of people, especially in North-west India.

Dr Jeyaraj D Pandian, Professor of Neurology and Principal, Vice-President of World Stroke Organisation mentioned this treatment is indicated in ischemic stroke (clot blocks the blood flow in brain artery). The common symptoms for stroke are: sudden paralysis in one side, sudden numbness in one side, sudden difficulty in speaking and understanding, sudden gid-diness, imbalance and loss of consciousness. Dr Pandian said that If someone or their rela-tive experiences these stroke symptoms they should reach CMC Stroke Unit on time to avail the above facility.
Dr Rajeshwar, Assistant Professor of Neurology said that stroke patients must reach CMC as early as possible 0-9 hours for clot bursting injection; however with the newer facility clots can be pulled out from brain arteries using stent retriever up to 24 hours. 
Dr William Bhatti lauded the efforts of department of Neurology in starting this Neuro cath-lab which will benefit people in Northwest India. He said that CMC Has been a pioneer in bringing new facilities and infrastructure to this region over the past 124 years. He also laud-ed the efforts of Dr Pandian in getting noble and elite citizens of the city of Ludhiana to do-nate to a fund that will be utilised for offering stroke treatment for poor and needy of the so-ciety. CMC administration sincerely thank and acknowledge the contribution of Mr S P Os-wal, Chairman, Vardhaman Group to support poor stroke patients who are eligible to avail this treatment.
 
Newer treatments through "Pin Hole" surgery in Neuro and Vascular intervention lab at Christian Medical College and Hospital, Ludhiana
1)    Narrowed or blocked blood vessels: 
•    Mechanical Thrombectomy for ischemic stroke, cerebral venous thrombosis, acute peripheral vascular disease, deep venous thrombosis, acute renal arterial/ venous thrombosis etc
•    Carotid artery stenting , Angioplasty/ stenting in peripheral vascular disease
•    Intracranial stenting for atherosclerotic disease
•    Central venous stenosis stenting and angioplasty
2) Expanded abnormal blood vessels:
•    Endovascular coiling of cerebral and peripheral aneurysms 
•    Treatment of AV Fistulas and malformations (Brain, spinal and visceral)
•    Varicose vein ablation 
•    Sclerotherapy for low flow vascular malformations
•    Pre op Embolisation of high flow vascular malformations 
•    Pelvic congestion syndrome management
•    Varicocele embolisation
3) Bleeding (haemorrhage):
•    Bronchial artery Embolisation for hemoptysis
•    Embolisation of renal pseudoaneurysms
•    Uterine artery embolisation for PPH, AVM's or fibroids
•    Embolisation of head and Neck bleeds
•    Embolisation of bleeding tumours like Head/ Neck, visceral, musculoskeletal etc
•    Treatment of visceral or non visceral pseudo-aneurysms
4) Tumor embolisation:
•    Transarterial chemo-embolisation for liver tumors
•    Preoperative embolisation of vascular tumours of head /neck, viscera and musculoskeletal
•    Radio frequency ablation of the tumours
•    Treatment of uterine fibroids