The Chinese empire has expanded because of invasion and encroachment from many years and it is still continuing today: Dr Sangay
Says CTA's stand is very clear. Ladakh is a part of India as are Sikkim and Arunachal Pradesh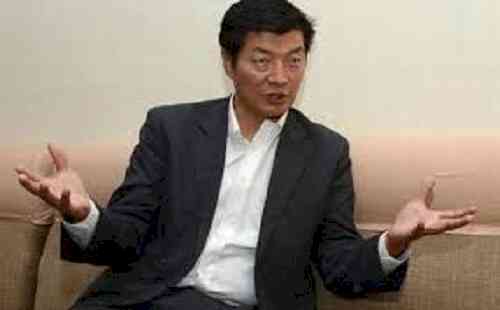 CTA's President Dr Lobsang Sangay.
Dharamshala: With nations around the world still paying the price for China's system that propelled the spread of corona virus around the globe, the unapologetic Chinese government executes an expansionist agenda to overturn the international rule of law and forcefully bend countries to its will.
Central Tibetan Administration, in Dharamshala  said that the withering attacks at the Indian borders since April, ironically on the occasion of the 70th anniversary of Sino-India diplomatic relations, bare China's deceitful, devious and long term agenda to annex the "five fingers" as it occupied the "right hand palm", Tibet in 1959.
It added that in what could be viewed as unprecedented media coverage on Tibet, CTA's President Dr Lobsang Sangay gave some 30 back-to-back media interviews in less a month's time, highlighting the issue of Tibet as core to the resolution of ongoing India's border tensions with China.
Appearing live in the national Indian English and Hindi news channels' prime time, Sikyong (President) Dr Lobsang Sangay vigorously raised the strategic and historical importance of Tibet as a buffer "zone of peace" between India and China.
"The Indo-Tibet border has been in existence for thousands of years of recorded history. Since it has become the India-China border, all these tensions have come up. Hence, the core issue is Tibet. When Tibet was independent, the Indian Army did not require a defence budget of 60 billion dollars, it was not necessary at all. So, once Tibet is demilitarised and declared a zone of peace, two largest populated countries in the world, India and China, will have permanent peace": President Dr Lobsang Sangay said in one such interview.
"CTA's stand is very clear. Ladakh is a part of India as are Sikkim and Arunachal Pradesh. Whenever His Holiness the Dalai Lama and I visit these places, we do as a guest of India. Moreover, His Holiness has been advocating for India's culture and secularism for the last 60 years": President Dr Lobsang Sangay said in the other interview.
"China says Tibet is part of China, Taiwan is part of China, Arunachal is part of China, Ladakh is part of China, but coronavirus is not part of China. They are staking claim to everything but coronavirus. This is what the Chinese Communist Party is capable of": said Dr Lobsang Sangay .
"Pragmatically the most viable solution and the most peaceful is through Middle Way Approach and dialogue as envisioned by His Holiness the Dalai Lama. Since the early 1970s, the CTA has pursued dialogue with the Chinese government based on the Middle Way Approach .The Chinese government always say Tibet is one of the core issues you know, for instance, Xi-Jinping has been on the record to say security and stability of China are dependent on security and stability of Tibet. That's how important it is for the Chinese government. Similarly, the Indian government should also say 'for the security of India, Tibet needs to be free": President Dr Lobsang Sangay .
"From our sixty years of experience, it is quite difficult to trust the Chinese regime. They say something and do exactly the opposite. China wants to maintain its strategic dominance by shake hands on the one hand and at the same flex the muscle with other hand."
Lobsang added, "I think it would be good to remember the statement made by late Defence Minister, George Fernandes, who said, in fact for India, China is adversary no. 1. Because if you look at LOC and LAC. LOC is much shorter. LAC is 3488 km long border, essentially and historically border between Tibet and India. Look at the map of China, the ethnic Han Chinese dominated territory is only 40 percent. 60 percent of the territory belong to other ethnic groups or nationalities including Tibet which is one-fifth of Tibet, Xinjiang, Inner Mongolia, Manchuria and all that. The Chinese empire has expanded because of invasion and encroachment from many years and it is still continuing today at Galwan, Dokhlam, Arunachal Pradesh, Nepal and Bhutan. Under international law, India has the right to defend its territory. "  President Dr Lobsang Sangay .