Child Line-1098 to be strengthened: ADC (Development)
Quarterly meeting of advisory board held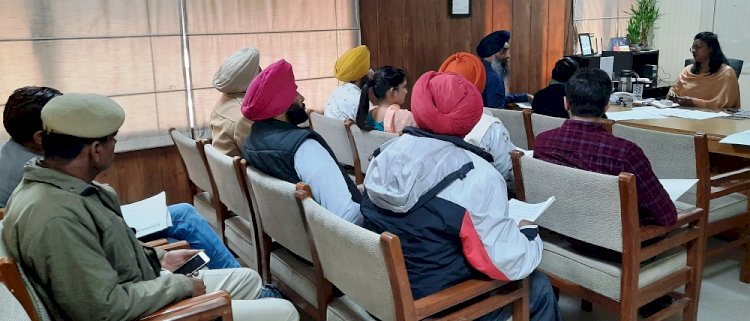 Ludhiana: The Child Line-1098, a toll free service, has been started by the Union Women and Child Welfare Department and is being run by Swami Ganga Nand Bhoori Wale International Foundation Dham, Talwandi Khurd, for the betterment of children in age group of 0-18 years and works 24 hours.
A quarterly meeting in this regard was chaired by Additional Deputy Commissioner (Development) Mrs Amrit Singh, in which several issues related to Child Line-1098, such as requirements, problems being faced by staff, etc, were discussed. This meeting was attended by officials and representatives of different government departments.
Mr Kuldeep Singh Mann, Director, Child Line Ludhiana, informed that Child Line-1098 is a toll free helpline service, where any person can or any needy child give information about an abandoned child. He said that the Child Line immediately swungs into action and provides relief to that child. He said that children who cannot open up about any problem in front of others can use this helpline. He informed that any homeless, missing, absconding, beggars, etc children can contact at the helpline for help.
Mrs Amrit Singh said that the District Administration Ludhiana is committed to strengthen the Child Line-1098 and the organisers would be provided with all facilities. She also directed all officials present in the meeting to provide full support for Child Line-1098 so that maximum number of children in need are provided help.
She also assured that a Standard Operating Procedure (SOP) would be set up in all concerned departments so that every person knows about his/her responsibilities. She said that District Education Officer would be directed to install 1098 boards in all schools and on April 7, 2020, film titled "Komal", which educates children about good touch, bad touch and ways to save themselves from people with bad intentions, would be shown to the schoolchildren in all schools.
Prominent among those present on the occasion included Mrs Rashmi Saini, District Child Protection Officer Ludhiana, Mr Kanwarpal Singh Bajwa, ACP (H), Mr Surjit Singh Dhanoa, DSP (Crime) Khanna, Mr Raj Kumar, Incharge, Observation Home, Mr Ajaib Singh, SHO Sudhar, Inspector Sadhu Singh Police Lines, besides several others were also present on the occasion.