Chief Minister of Rajasthan honours LPU architect student for his designing expertise
LPU student Sunny Chhetri emerged as winner in 'Envelope Design' competition at three-day "Design Conclave 2020" held in Jaipur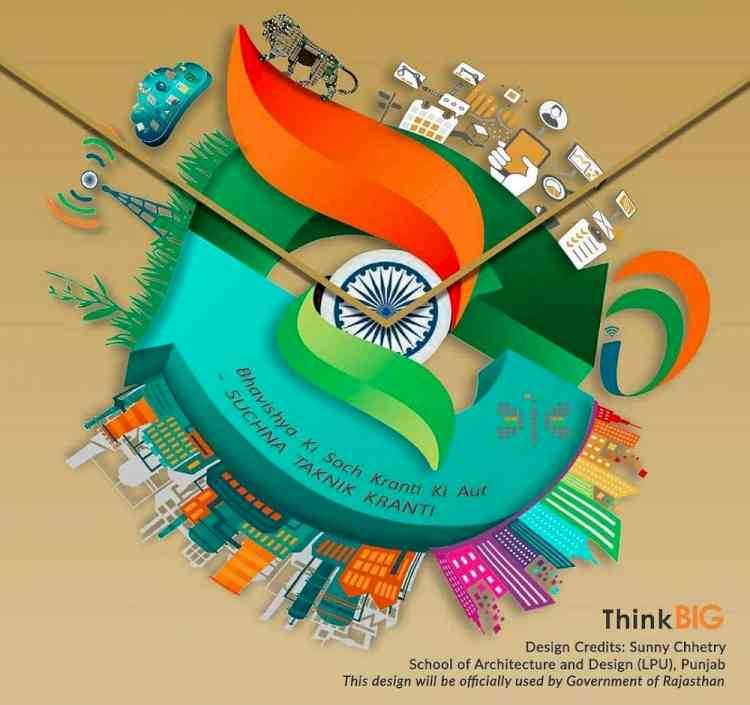 LPU student Sunny Chhetri won 'Envelope Design' competition in a Design Conclave 2020 in Jaipur.


Jalandhar: The Chief Minister of Rajasthan Shri Ashok Gehlot has awarded 4th Year Architecture student Sunny Chhetri of LPU, virtually, with First Prize for his unique designing expertise. Sunny has emerged as the winner in 'Envelope Design' competition at three-day "Design Conclave 2020" held in Jaipur. This 'winning' design of multiple elaborations will now be officially used by the Government of Rajasthan. Conclave 2020 was jointly organized online by the Arts, Literature, Culture and Information Technology Departments of the Rajasthan Government, particularly Centre for Design Excellence and Department of Science & Technology.

The theme of the finalized design to be submitted within three days was "IT Revolution". With smart skills, LPU students' team, led by Sunny Chhetri from Kolkata and member student Bryan Umwi of the same class from Meghalaya, rose above numerous entries from across the country. The fantastic design is very catchy and illustrative too. LPU students also embedded two taglines in Hindi on it- "Bhavishya Ki Soch, Kranti ki Aur" and "Suchna Taknik Kranti". Applauding the mentoring, supportive and motivating spirit of all the teachers at LPU School of Architecture & Design, Sunny shared that only due to such strengths winning could be possible, in an otherwise tough national level competition.

Talking about the design, Sunny informed that multi-coloured configuration is taken from National Tri-Colour, and its circle denotes never ending revolution for future generations. "Being a regularly growing country, India is a land of revolutions whether for freedom, social justice, in space or presently in the IT Sector, which will be ever on. Similarly this winning design is symbolizing dense revolution", shared prestigiously awarded LPU student Sunny Chhetri.

Sunny has received 'Certificate of Excellence' as First Prize from the Government of Rajasthan, under the signatures of Ar Shweta Chaudhary of Centre for Design Excellence and Ms Mugdha Sinha (IAS), Secretary, Deptt of Science & Technology, Govt. of Rajasthan.

In fact, with the tagline "Build the Future, Through Buildings of Future", LPU School of Architecture & Design teaches its students to design, innovate and create. In an era of smart cities, sustainable buildings and contemporary interiors, it nourishes learners to become lateral thinkers by focusing on critical design approaches. It creates skilled professionals that are recruit-able much before they graduate. Forwarding innovative teaching, it challenges the conventional teaching methods with practice-based teaching.