Chennai Book Fair attracted more than 13 lakh visitors this year
Increase of 20 percent footfall compared to previous year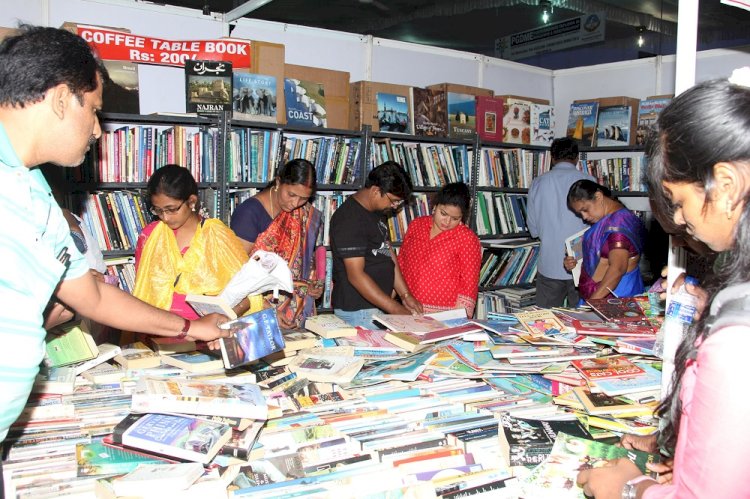 Chennai:  The 43rd Chennai Book Fair which was organized by The Booksellers' & Publishers' Association of South India (BAPASI) at YMCA Ground, Nandanam, Chennai wrapped up yesterday with grand success.
One of the largest Book Fair in Asia - Chennai Book Fair scheduled for 13 days from 9th January to 21st January, 2020. The Book Fair  showcased more than 800 stalls with crores of Books under a single wide roof. The Chennai Book Fair attracted more than 13 lakh Readers and Book lovers from various countries and from states all over India. More than 20 crores worth books have been sold in this Chennai Book Fair which is known as  Intellectual and Cultural festival of Chennai.
Hon'ble Deputy Chief Minister of Tamil Nadu Mr. O. Panneerselvam graced the valedictory function of the Book Fair and presented the awards to 20 publishers who contributed 25 years in  the field of publishing industry at  6pm yesterday in YMCA Ground, Nandanam. Former Minister of Tamil Nadu Dr. Vaigai Selvan  was present as a special guest in this event. Mr. R.S. Shanmugam, President of BAPASI welcomed the august audience  with  the welcome address and Mr. S.K. Murugan, Secretary of BAPASI delivered the vote of Thanks.
Keeladi - Eeradi auditorium, Eluthalar Mutram,  Chennai Reads and Sand Sculpture of Thiruvalluvar, are a few special features of  Chennai Book Fair attracted more footfalls which is 20% higher than previous year.
 Prizes given to the top 3 students from BAPASI members who scored highest marks in 10th, 12th  standard exams last year and highest scorer in Tamil language (Total 8 prizes) in the event today.
The thirteen day Book Fair had several special features under its wings. One of the features is to bring  the leading writers, poets, scientists and personalities of other walks of life to embellish each day of the Book Fair and make it a memorable one.
A special auditorium of 3,000 sq.feet titled Keeladi - Eeradi showcased the features of the ancientness and the greatness of Tamil language, "Eluthalar Mutram" which connected Writers - Readers - Publishers, sand sculpture of Thiruvalluvar, Thousands of students gathered and read at the same time, same place and created a new record in the event Chennai Reads  are a few special initiatives of  Chennai Book Fair recognized by the readers this year.
Thousands of students and young children participated and won prizes for their skills and talents by competing in Oratorical, Drawing and Quiz competitions arranged especially for them.
Young directors showed their prowess through their short films and documentaries filled with social themes and related to books; more than 55 short films and documentaries screened in the auditorium arranged separately for the purpose.
World renowned publishers and book sellers offered a 10% discount on all books sold at the 43rd Chennai Book Fair. Moreover to attract the young minds, towards books students of schools and colleges; in and around Chennai given free entry tickets; duly distributed by BAPASI through various institutions.
To the convenience of senior citizens free vehicles have been arranged from the main entrance of YMCA to Book Fair venue to pick and drop them at the same place.
Online Tickets, wheel chairs for differently abled people, mobile ATM's, purchase through debit and credit cards are some of the additional features have been arranged by BAPASI for the book lovers.
Chennai Book Fair - an Intellectual and Cultural festival of Chennai city has come to an end for this year yesterday with sweet memories.