Chandigarh gets a new café-cum-bookstore  
Blue Tokai Coffee Roasters & BAHRISONS Booksellers LLP unveils its first outlet in Chandigarh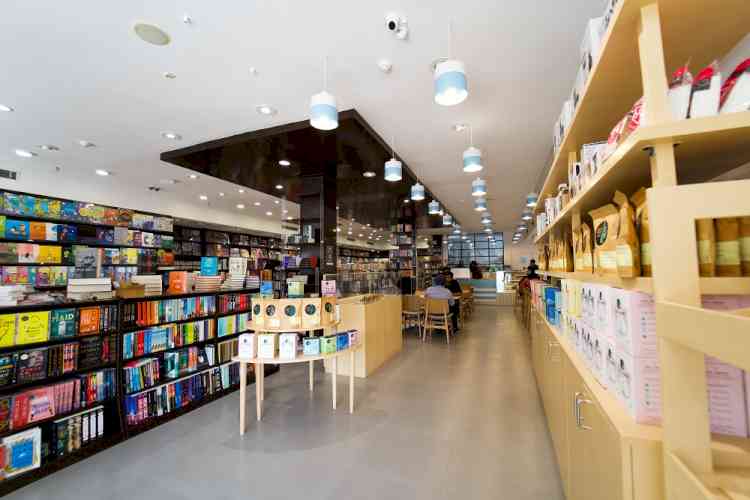 Chandigarh, March 15, 2022: Blue Tokai Coffee Roasters and BAHRISONS Booksellers LLP, pioneers of specialty coffee and book culture in India respectively, announce the launch of their first café-cum-bookstore in Chandigarh. This collaboration, which marks the entry of both the brands in Chandigarh, brings together India's best specialty coffee and one of the oldest and most iconic bookstores in the country, under one roof. The brand-new outlet, spread across approximately 3000 sq. ft., will be home to an extensive dine-in menu,home-brewing equipment, wide range of beverages and a comprehensive book collection for all age groups.
 
Visitors will be able to choose from several hot and cold brews like Espresso, Pourover, Americano, Cappuccino, Flat White, Vietnamese-style coffee amongst many others - all brewed using Blue Tokai's high-quality roasted beans. Customers will be in for a treat with food choices ranging from healthy sourdough sandwiches, egg-based preparations, salads, cold-pressed juices and a special breakfast menu along with indulgent options including sourdough pizza, pasta, waffles, pancakes, fries and a host of desserts.
 
Enriching this experience further, the bookstore will house a diverse collection on Design, Art, Architecture, Fashion, Travel and Luxury, as well as an impressive selection of Classics. Customers will be able to browse through bestselling Fiction from around the world, along with Non-Fiction like History, Politics, Biographies, Indian and World Affairs. There will also be a dedicated section of Children's and Young Adult literature. Like the stores in Delhi-NCR, the Chandigarh bookstore will host book signings and author events.
 
After successfully running similar format stores in Delhi-NCR, the newly-launched café-cum-bookstore in Chandigarh is the fourthcollaborative project between Blue Tokai Coffee Roasters and BAHRISONS Booksellers LLP. Independently, Blue Tokai has 45 other cafés across the country and BAHRISONS Booksellers has7bookstores pan India. 
 
Speaking on the launch, Shivam Shahi, Co-Founder and COO, Blue Tokai Coffee Roasters said, "We are excited to launch Blue Tokai's first café in Chandigarh, a city known for its love for living a good life through quality experiences. Our debut in Chandigarh is special as we take a step forward in our partnership with BAHRISONS Booksellers and bring an unparalleled combination of coffee and books together. Over the years, we've seen a growing trend for good quality coffee amongst home-brewing enthusiasts in Chandigarh, and it was only natural for us to translate this experience to out-of-home formats as well. With the launch of our first on-ground outlet here, we are excited to cater to a larger number of customers and further nurture and elevate Chandigarh's coffee culture."
 
When asked about the expansion to Chandigarh, Anuj Bahri, Owner, BAHRISONSBooksellers LLP said, "I am overjoyed to bring our humble collection of literature and learning to this beautiful city. Our long-standing partnership with Blue Tokai Coffee Roasters is a reflection of India's love for coffee and books, and we are very excited to bring this experience to Chandigarh. This café-cum-bookstore is a perfect spot for the creative community of Chandigarh and with our varied book collection, I hope we can enrich the shelves of personal libraries across the city."
 
The café-cum-bookstore is located at SCO 14-15, Ground Floor, Madhya Marg (Near Apollo Clinic), Sector 8C. The café will be operational from 8:00 AM-10:00 PMandthe bookstore from 10:30 AM-8:30 PM on all days.