Chamber of Chandigarh Industries holds 22nd blood donation camp
As many as 250 units of blood were collected at the camp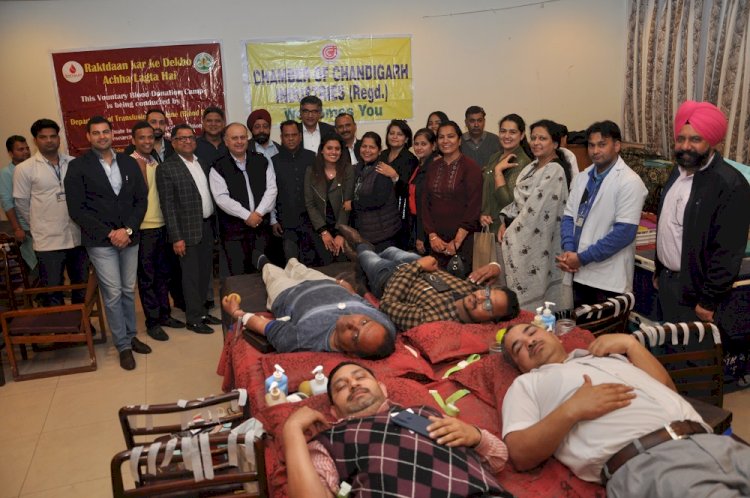 Chandigarh: Chamber of Chandigarh Industries under its corporate social responsibility initiative, organised the 22nd Blood Donation Camp at the Community Centre, Industrial Area, Phase I, here.
As many as 250 units of blood were collected at the camp.
Naveen Manglani, President, Chamber of Chandigarh Industries said, "We have already successfully conducted 21 blood donation camps. Apart from an annual blood donation camp, the chamber from time to time keeps taking social initiatives which are aimed at helping economically weaker sections of society. The blood donation camps are held annually to help in creating a buffer of this important resource."
The blood bank of Post Graduate Medical College of Education and Research (PGIMER) collected the blood under the supervision of Dr Suchet Sachdev.
Ashok Goel, General Secretary, Chamber of Chandigarh Industries said, "The unique aspect about the event was that not only blood was collected but there were free of cost  tests available for Creatnine, Calcium, Sugar (Random)and Cholesterol. The Bharat Vikas Parishad collaborated with the Chamber to provide this facility."
Rajwant Singh, Chairman, Blood Camp, said, "The donors by and large were chamber members, members of their families , employees, and a sizable number of female donors also donated blood.  Senior officers heading different departments of  Chandigarh Administration also visited the camp."
Gifts and health tonics were distributed to all the donors and a bhandara was also held for the industrial employees. Such camps help in filling the wide gap between demand and supply of the precious gift of life -blood. By conducting the camp the chamber has provided an example which is worth emulating by other organisations and society.