CGC's high spirited 15th annual athletic meet concludes 
Techiopu Tara and Rajesh adjudged best athletes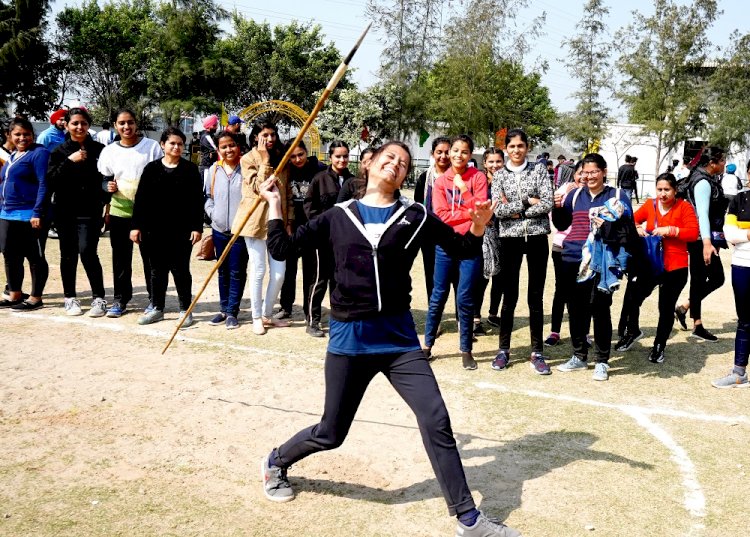 Chandigarh: The 15th Annual Athletic Meet at CGC Landran ended with a spectacular show of sportsmanship and talent. Techiopu Tara pursuing Biotechnology from CGC was adjudged the Best Athlete (Girls) while Rajesh pursuing B.Com was named the Best Athlete (Boys). 
In Shot Put (Boys) Mohammad Karim took the first position, Kanav Khara stood second while Sukhvir stood third. Javlin Throw competition (Boys) saw Sahil Kumar bagging the first position, Deepak, second and Paras, third. Javlin Throw (girls) saw Rashi at first position followed by Deepika at second and Shalika at third. Discus Throw (girls) had Ramneek winning the first spot, Priya Sharma at second and Diljot Kaur, third. In Discus Throw (Boys), Deepak Kumar came first; Akshat Sharma second and Mohammad Karim stood third, respectively.  In 110 meters (boys) the first three winning positions were grabbed by, Yogesh,Vishal Singh and Lovepreet respectively. 
The winners were honoured with medals and trophies at the prize distribution ceremony which was presided over by the Chief Guest Mr   Prabhjot Singh(Olympian) and Guest of Honor Amyjot Singh Gill(International Player) . They congratulated the winners and appreciated their efforts and practice encouraging them to make sports an integral part of their lives. 
Rashpal Singh Dhaliwal, President, CGC and Satnam Singh Sandhu, Chairman, CGC Landran commended the dedication of all the participating athletes. They emphasized the important role that sports play in chiseling a person's personality and emotional resilience in the best way possible training them to tackle any challenge head-on.