CGC Landran hosts 2-day international conference on online businesses 
Various sessions were undertaken by academicians and practitioners from industry and universities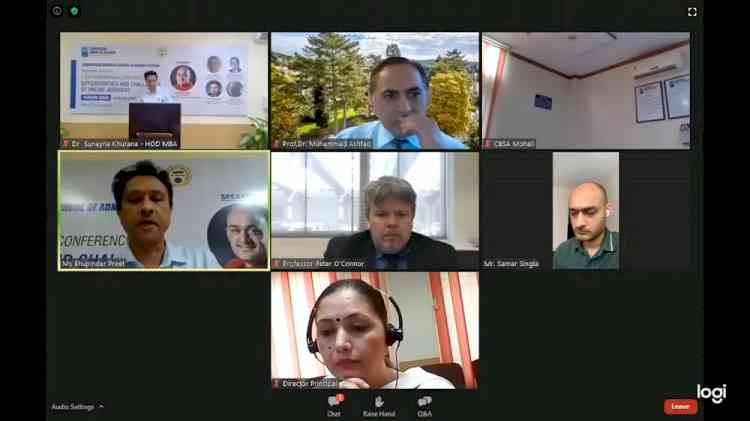 Chandigarh: Providing a platform to esteemed dignitaries from both the national and international spheres to share expert knowledge with the young minds, Chandigarh Group of Colleges hosted a 2-day International conference (Virtual) on 'Opportunities and Challenges of Online Business - Vision 2025' in association with All India Council for Technical Education (#AICTE).
The conference initiated with the inauguration ceremony wherein CGC Landran's Chairman Satnam Singh Sandhu and President Rashpal Singh Dhaliwal along with the management officials extended heartiest welcome to the guests and participants.
"Owing to the current pandemic, online businesses are continuously evolving to the extent that we are witnessing new dimensions to it. Thus, with this international conference, we strive to give students a way to understand the growing demands to excel in this regard", said Satnam Singh Sandhu, Chairman CGC.  
The Chief Guest and Keynote Speaker for the 2-day conference was Mr. Samar Singla, Founder-CEO, Click Labs, Jugnoo and Jungleworks, shared "The pandemic has given an opportunity to undertake entrepreneurial endeavours and with majority of businesses moving online, we have to prepare ourselves to compete globally. Students must take initiatives, keep learning new things constantly as the online scenario is ever-evolving and also, they must recognize what they are good at and follow it truly. This is how they can become successful entrepreneurs and create a lucrative online venture." 
The conference also witnessed the presence of International dignitaries as the Guests of Honour including Prof. Dr. Muhammad Ashfaq from IUBH University of Applied Sciences, Germany, Prof. Dr. Ilhan Ozturk, CAG University, Turkey and Dr. Stanley Oliver, University of Bolton, UK.
Various sessions were undertaken by academicians and practitioners from industry and universities. A total of 152 research papers were received from 9 distinct countries to be displayed at the conference out of which 119 have been selected to be published in ABDC, SCOPUS and UGC Care indexed journals.