Central University of Punjab organized lecture by acclaimed environmentalist and Rajya Sabha MP Sant Balbir Singh Seechewal
The Central University of Punjab organized a lecture titled "Learning from Holy Bein Conservation Movement" by acclaimed environmentalist and Rajya Sabha MP Sant Balbir Singh Seechewal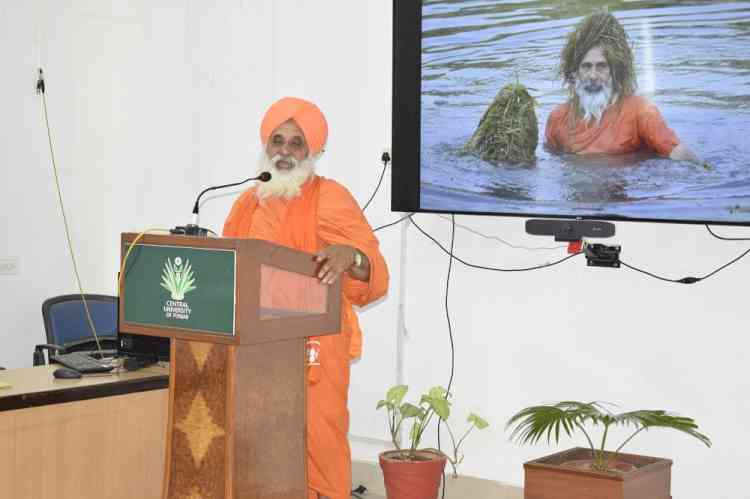 Balbeer Singh Seechewal addressing the participants.


Bathinda, June 7: In its ongoing efforts to create awareness for environmental conservation among youngsters, the Central University of Punjab organized an inspiring lecture titled "Collective Consensus for Environment Awakening: Learning from Holy Bein Conservation Movement" on Wednesday at its campus. CUPB Dept. of Mass Communication and Media Studies conducted this programme. The distinguished speaker for the event was Sant Seechewal, a renowned environmentalist, recipient of the Padma Shri award, and Member of Parliament in the Rajya Sabha.
Dr. Ramanpreet Kaur welcomed the participants at the outset, followed by Dr. Rubal Kanozia introducing the keynote speaker. He stated that Sant Balbir Singh Seechewal is a highly esteemed environmentalist who has dedicated his life to preserving and restoring the environment in Punjab. His work in spearheading the Holy Bein Conservation Movement has garnered national and international recognition.
During the lecture, Sant Seechewal emphasized that the environmental changes observed in recent decades are the result of overutilization of natural resources and environmental pollution. He cited verses from Guru Nanak Bani, "Pawan Guru Pani Pita Mata Dharat Mahat..." to highlight the importance of clean air, water, and soil in our lives. However, human beings are polluting all three essential components.
While sharing experiences related to the Holy Bein Conservation Movement, Sant Balbir Singh asserted that Holy Bein, a rivulet that flows into the confluence of the rivers Bias and Sutlej, is a sacred place where Guru Nanak used to bath during his stay at Sultanpur Lodhi and one day after taking bath in it, he decided to free the world from the darkness of ritualistic ignorance. In the wake of the green revolution, the Holy Bein became polluted. In 2000, the Holy Bein Conservation Movement was initiated to rejuvenate the deteriorating Holy Bein river, which holds immense religious and cultural significance. Sant Seechewal discussed the challenges encountered during this movement, the strategies employed to overcome those obstacles, and the significant impact it had on the environment and the local community. He shed light on the model of Seechewal Village and emphasized the reuse of treated wastewater for irrigation and other purposes. He encouraged participants to take the responsibility of protecting our environment by devoting some time to nature. The lecture concluded with an question and answer session.
Expressing gratitude to Sant Seechewal for inspiring the participants, Vice-Chancellor Prof. Raghavendra P. Tiwari stressed that the university is committed to fostering the message of adopting a sustainable lifestyle among youth. He urged the audience to draw inspiration from the Holy Bein Conservation Movement initiated by Sant Seechewal and apply its principles in preserving and safeguarding the environment for future generations.
On this occasion, Prof. B.P. Garg, CoE and Registrar (I/c), Prof. V.K. Garg, HoD, Dept. of Mass Communication and Media Studies, and faculty members of the department were present. The program was well attended by an enthusiastic audience consisting of students, faculty members, officers, environmental enthusiasts, and representatives from various organizations dedicated to environmental conservation.