Sahayta Charitable Welfare Society holds celebrations of Cancer Survivors' Day and International Childhood Cancer Day
Homage was also paid to founder president of Sahayta -Neelu Tulli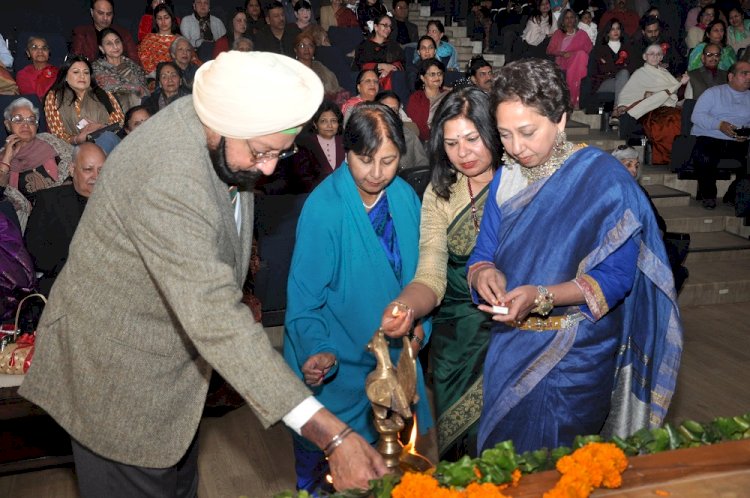 Raja Malwinder Singh of Patiala who was chief guest at 'Cancer Survivors' day & International Childhood Cancer Day' celebrated by Sahayta Charitable Welfare Society lighting the lamp to inaugurate the event.
Chandigarh: Sahayta Charitable Welfare Society held a joint celebration of Cancer Survivors' Day & International Childhood Cancer Day in the auditorium of Post Graduate Govt. Girls College, Sec 42 here. Raja Malvinder Singh of Patiala presided over the function and Mrs. Gaitri M M Singh was the Guest of Honour. Doctors from PGI and GMCH Sector 32 also graced the occasion. Chief Guest congratulated Sahayta Charitable Welfare Society on completion of 23 years of compassion and care and lauded the efforts of the society for giving much needed succour to cancer afflicted families.
 
The programme embarked upon with a lighting of lamp ceremony.
 
Cutural performances - 'Taare Zameen Par' by children survivors and 'Colours of Life' a fashion walk by lady Sahayta Survivors  were the highlights of the celebrations. Jeevan Shakti award was  presented to Babita and Bal Jeevan Shakti award to Pranav Aggarwal for having faced the disease bravely and being source of inspiration to others. Pranav Aggarwal in his speech motivated people with cancer to be positive and fight the disease with a happy frame of mind despite the challenges.
 
Dr Minni Arora also highlighted the need to counter cancer by timely detection of the disease and adopting a lifestyle which keeps the disease at bay.
 
A homage was also paid to founder president of Sahayta -Neelu Tulli.
 
The theme of the evening was 23 years of care, compassion and  commitment towards improvement of quality of life of cancer patients.
 
Renu Saigal, President, Sahayta Charitable Welfare Society said, "We at Sahayta call upon our government to intensify action on the cancer control programme aimed at prevention, early detection, affordable treatment and appeal to all doctors, NGOs' and researchers to work together for a cancer free world."
 
In the end a pledge 'Hum Honge Kamyaab' was also taken by all present.