Celebrations begin in city in connection with Ram Temple construction in Ayodhya
Shiv Mandir Gaughat Ludhiana will be beautified by installing saffron flags on August 5: Mehra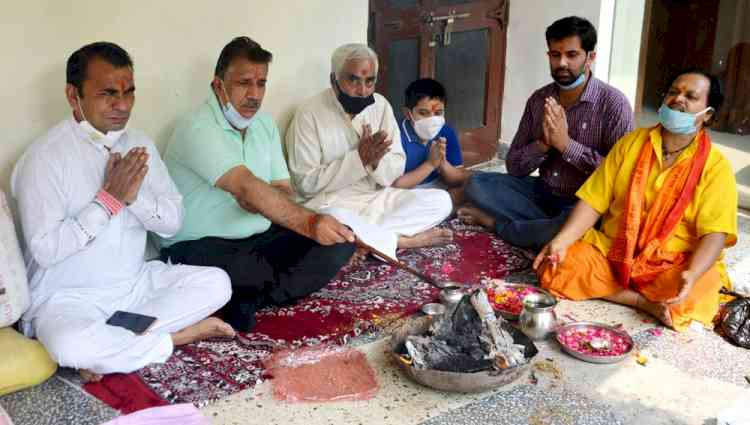 Ludhiana: A havana yajna was organsied in the civil lines area here on Sunday by Hindu Parishad Shiv Mandir Gaughat Ludhiana president Sunil Mehra, in view of "Bhumi Pujan" being organised on August 5 in connection with Ram Temple construction in Ayodhya.

On the occasion, Mehra told the media persons that a centuries-old dream is being fulfilled with the latest development. He termed it as a victory of Hindus' struggle after a long passage of 493 years.  He added there prevailed a wave of jubilation among the Hindu masses across the country, including Ludhiana city where havana yajnas and path of Ramayana have begun in city temples. He added these religious functions will continue till August 5.

Mehra said that Shiv Mandir Gaughat Ludhiana will be beautified by installing saffron flags on August 5 and laddoos will be distributed as a mark of the celebrations. 

The mandir committee president Mohinder Aggarwal and staunch sewak Pawan Lehar told that on December 6, 1992 a jatha of kar swaks under the leadership of Late Lala Lajpat Rai,Satpal Gosain, Kasturi Lal Mittal and Sunil Mehra had gone to Ayodhaya in connection with Ram Mandir Andalan and these leaders were arrested and sent to jails for one month at that time.

Now, these kar sewaks will be honoured soon, they said.

On the occasion, Harish Saggar, Amit Gupta, Manish Kumar and others were present.