Celebration of 71st Constitutional Day at PU
The Webinar was concluded with vote of thanks by Prof. Devinder Singh, Coordinator, B.R. Ambedkar Centre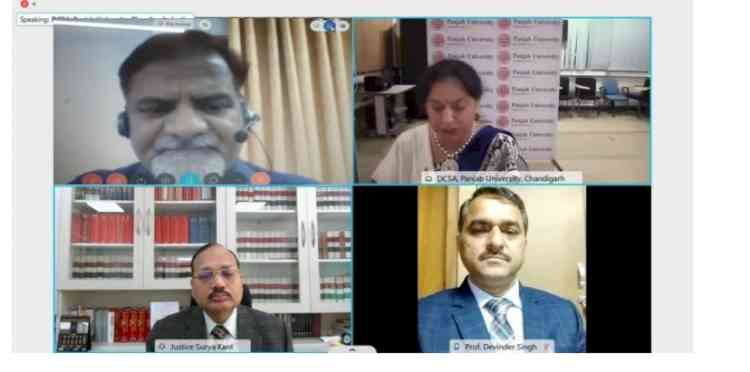 Chandigarh: Panjab University celebrated the 71st Constitutional Day by organizing a Webinar on 'Fundamental Rights and Duties,' today under the aegis of Ministry of Education, Government of India, University Grants Commission (UGC), and Dr. B. R. Ambedkar Centre, PU.
 
Prof. Jyoti Rattan, who is nodal officer to celebrate year-long events on National Constitution Day, introduced theme of Webinar by saying that this Day is celebrated since 2015 and the year 2020 is marked by the government of India to celebrate citizen's duties along with rights.
 
Prof. Raj Kumar, Vice Chancellor Panjab University, welcomed the Chief Guest and said Justice Suryakant Ji is a man of great knowledge and expertise in constitutional matters, and thanked him for agreeing to join today's legal and academic discourse.
 
Hon'ble Mr. Justice Surya Kant, Judge Supreme Court of India,the Chief guest ,  talked about the success of the Indian Constitution in establishing the ideals of universal justice and democracy, and inspiring many other nascent constitutions around the globe. He then talked about the importance of a constitution, and the genius of the framers of Indian constitution who despite the ravages of partition, gave us the Constitution and fundamental rights with restriction and duties too. And article 326, which provided Universal Adult Franchise to every Indian without any discrimination. He said that it's our  duty to wear a mask and follow social distancing norms to stop the transmission of virus.
 
The Webinar was concluded with vote of thanks by Prof. Devinder Singh, Coordinator, B.R. Ambedkar Centre. Those who joined online included Prof RK Singla,DUI, Mr Vikram Nayyar, FDO and officiating Registrar, Dr Jagat Bhushan, officiating CoE, DSWs, Chairpersons, Directors of Regional centres, Principals of Colleges, teachers and Students.