CDK Global India returns with fun celebrations for the 7th edition of their Family Day Event - Convergence 2022
CDK Global Inc., a leading provider of retail technology and software as a service (SaaS) solutions, today celebrated its 7th Family Day, Convergence 2022, at JRC Convention, Hyderabad.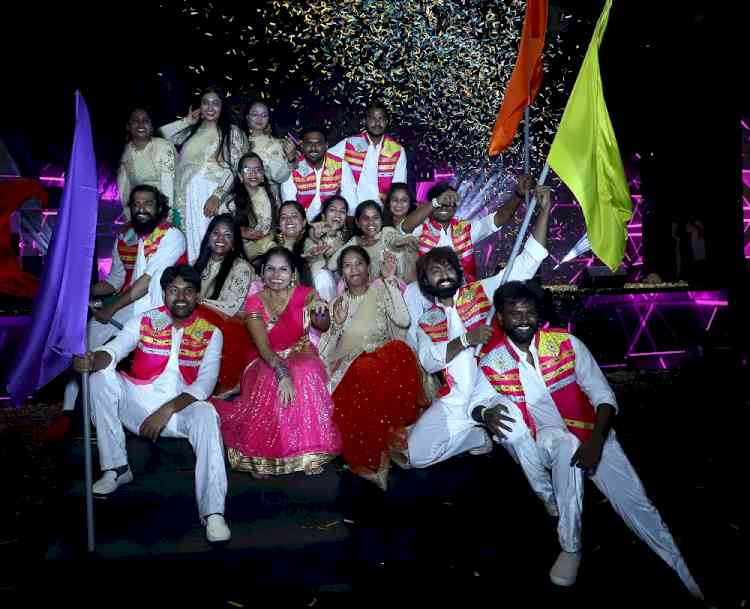 Hyderabad, May 14, 2022: CDK Global Inc., a leading provider of retail technology and software as a service (SaaS) solutions, today celebrated its 7th Family Day, Convergence 2022, at JRC Convention, Hyderabad. The theme of this year's Convergence is 'Happiness Re-loaded' which saw a lot of excitement and participation of employees along with their families to cherish the teams' success and organisation's growth. The primary objective of this event is to celebrate how CDK family stayed together and supported each other during the challenging times and acknowledge and appreciate their contributions towards the success and growth of the organization.
Convergence 2022 started off with a scrumptious Hi-Tea, followed by Lamp Lighting, and playing the Family Montage Video which kept the audience engrossed. The cultural evening was opened with a welcome note address by Mr Arvind Chaturvedi, the Managing Director of CDK Global India. The variety entertainment programs started on high energy, opening with the classical welcome dance which moved on to adorable acts performed by the talented CDK employees and their family members, showcasing a humorous take on Return to Office. The MC's carried the event, making sure that everyone was having an enjoyable time with the spoofs and acts performed by them including Bollywood dialogues, movie recreations, and character mimics which was highly appreciated by the audience. There were extravagant dance, musical and rap performances which kept the audience highly amused. Indeed, all of them put up by the employees and their families making it special for the entire CDK family.
At Convergence, there was a mesmerizing performance by CDK Global's Managing Director, Mr. Arvind Chaturvedi where he tuned into some of his favourite retro numbers with fellow singers and later joined the CDK leadership team in their most awaited showstopper performance. The event also saw some of the CDK alumni joining the performers on-stage who are a part of the CDK Circle – Connections for Life Program.
The event also included the much-anticipated Awards Night, where CDK Global India recognised its employees' commitment, undying efforts, and outstanding contributions at various levels by presenting them with awards such as Dronacharya and You Make a Difference, where the winners were also honoured with trophies in presence of their family members. The gala night concluded with an entertaining DJ opening the dance floor with all-time favourite hits and making the audience groove to the tunes and simply dance-it-off. The event was, then, concluded with a scrumptious dinner.
While addressing the employees and family members, Arvind Chaturvedi, Managing Director, CDK Global India said, "Convergence 2022 is a great opportunity for us to come together as one CDK family, to celebrate the success and express gratitude to our extended family for their unwavering support. It is even more special this year, as we come together for the first time since the unprecedented events of 2019-20. Hence, as the events team has aptly decided the theme, it is, indeed, Happiness Reloaded! We work together as a team playing to our strengths, whilst taking the time to celebrate all our achievements along the way. I look forward to continued growth and success in our current fiscal and beyond."
Rashim Arora, the newly appointed Vice President, India Operations for CDK Global, exclaimed, "This has been one of the most incredible experiences since my journey started with this organization. It has been an absolute delight to experience all the event activities taking place; the strong teamwork and bonding is something very special about the CDK culture. I would like to express my heartfelt gratitude to our family members, who have been an absolute pillar of strength for each of our employees, keeping our morale high and taking care of our well-being at all times, allowing us to function and deliver our best for the marketplace. We wish to achieve everything that we stand for, together in the coming year and have fun along the way!"
Operating in India since May 2015, with over 1,400 employees in Hyderabad and Pune, CDK India is Great Place to Work (GPTW) certified for the 3rd time in 2022, one of the Top 15 India's Best Workplaces in Health and Wellness, one of the Top 100 India's Best Workplaces for Women, and one of the Top 75 India' Best Workplaces in IT as recognized by GPTW in 2021. With a people-focused culture and industry leading employee benefits, the leadership's commitment towards inclusion & diversity, work-life flexibility, career coaching and development makes them one of the best places to work, learn and excel.