Capt Amarinder Singh virtually inaugurates children's covid ward and PSA oxygen Plants in Ludhiana
This has been done in preparation of 3rd covid wave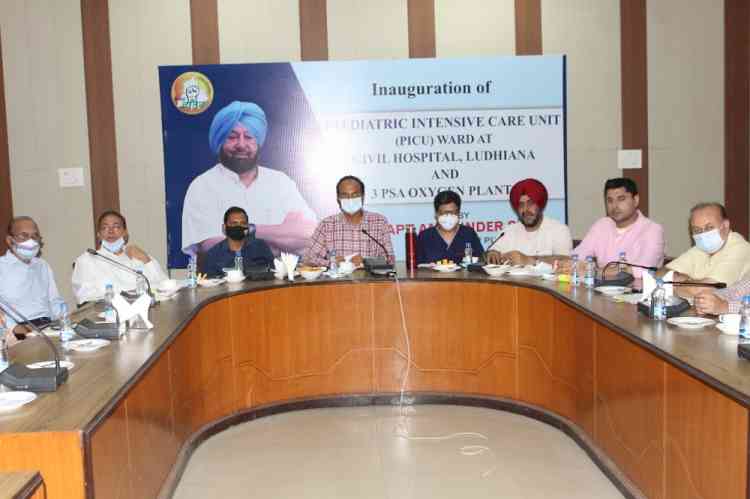 Ludhiana, Aug 14: To tackle third wave of Covid pandemic effectively by augmenting health infrastructure in the government health institutions, Chief Minister Capt Amarinder Singh on Saturday virtually inaugurated Paediatric Covid Care Ward set up in Civil Hospital and three Pressure Swing Adsorption (PSA) oxygen plants built at the cost of Rs 4.21 crore. 
The ultra-modern Pediatric Intensive Care Unit (PICU) has five PICU units & eight Multisystem Inflammatory Syndrome in Children (MISC) beds in it. The doctors and nurses have been trained with the help of Dr. Bishav Mohan of (DMC&H). Besides, this ward has ECHO & Cardiology backup from DMC&H.
Thanking Dr. Rupesh Aggarwal (Singapore) for Project O2 with Zeiss, India for donated five PICU beds, Vijay Munjal of Hero Ecotech Ltd, Ludhiana and Dr. Bishav Mohan for donating equipment worth Rs 20 lakh for the initiative, Chief Minister Capt Amarinder Singh said that their generous contribution would go in long way to ensure quality healthcare services to the children in the government health facility. 
The Chief Minister announced that the government would be augmenting the PICU and level 2 paediatric beds capacity in all 23 Districts and 4 GMCHs to 1,104 paediatric beds. 
He said that this collective effort of philanthropists, industries and Punjab Government would prove instrumental in saving the precious lives from Covid and would help to combat the pandemic efficiently. 
The PSA Oxygen plants in Ludhiana inaugurated by the Chief Minister include 1000 LPM each at ESI Hospital and Civil Hospital, and 500 LPM at Urban Health Centre, Vardhman. 
Captain Amarinder said a total of 76  PSA Plants (41 GoI supported and 35 donor supported) are being installed in the State, with  48832 LPM oxygen generation capacity. With installation of these plants, the State's dependency on oxygen supply from outside Punjab will substantially reduce, he said, adding that preparations were on to augment the oxygen capacity to 560 MT, including 235 MT of LMO and around 328 MT from PSA plants, ASUs and Oxygen Concentrators. This includes 50 MT oxygen for non COVID emergency situations, in order to ensure that non Covid patients do not suffer, he added. At the peak of second wave, Punjab was utilising about 308 MT Oxygen.
He told that the Punjab government has been making double efforts to combat anticipated third wave and Pediatric Intensive Care Units and other children related health infrastructure are being established in all the districts of the state.
He said that the fight against coronavirus was most difficult in which the enemy was totally invisible and was deadly but doctors, paramedics, civil and police officials exhibited exemplary courage and determination due to which several precious lives were saved.
Prominent among those present on the occasion included Deputy Commissioner, PMIDB Chairman Amarjit Singh Tikka, PYDB Chairman Sukhwinder Singh Bindra, PSIDC Chairman KK Bawa, DCC Urban President Ashwani Sharma, Backfinco vice chairman Mohd Gulab, Dr Bishav Mohan, ADC (UD) Sandeep Kumar, Prem Gupta, Civil Surgeon Dr Kiran Gill, besides several others.