Capt Amarinder led Government established business investment friendly environment in state: Tewari
Rs 91 thousand Crore investment in Punjab of due to Chief Minister Captain Amarinder Singh's business friendly initiatives Manish Tewari today flagged off 1000th Crop Tiger Gen-lll machine of CLAAS India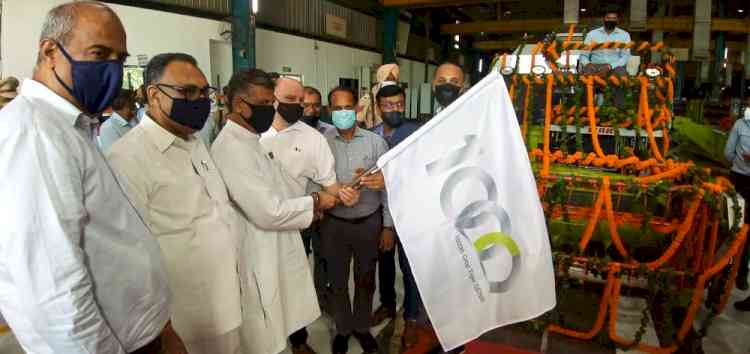 Morinda, September 13, 2021: Member of Parliament from Sri Anandpur Sahib Mr. Manish Tewari today flagged off 1000th Crop Tiger Gen-lll machine of CLAAS India at Morinda in the presence of Mr. Pawan Dewan, Chairman, Punjab Large Industrial Development Board and Mr. Vijay Sharma, Chairman, District Planning Board, SAS Nagar and  Mr. Sriram Kannan from CLAAS India .
Speaking on the occasion Mr. Tewari said that Punjab Government under the visionary leadership of Chief Minister Captain Amarinder Singh has set up a single window system for providing all clearances to set up a business within a time bound manner. He said that with these sincere efforts and policies of the Punjab Government the state has got a record investment of Rs 91 thousand Crores in the state. The entrepreneurs are able to all approvals within few days even within 15 days after applying for setting a business unit. 
He stressed upon the need to focus on the development of the Industry in the state for providing jobs to the youth of the state. He emphasised on that industries should also focus on the community development in its surrounding. He talked about the technological advancements happening in the field of agriculture. He urged the farmers to make use of the available technology for converting the waste generated into the profitable earnings. 
Mr. Sriram Kannan from CLAAS India thanked the dignitaries to attend the function. He also handed over a letter of representation to Mr. Tewari for supporting the CLAAS in Make in India initiative. 
From CLAAS India management side Mr. Sriram Kannan, Managing Director, Mr. Sebastian Gamble, Director Manufacturing, Mr. Kirpal Singh Sian, Deputy Senior Vice President, and Mr. Sunil Jha, Director Engineering. The programme was coordinated by Mr. Sumit Kaplish, General Manager Manufacturing and Mr. Bhawish Awasthy, Chief Human Resources Officer.