Burning issue of Gaggal airport expansion
Organisations come out in favour and against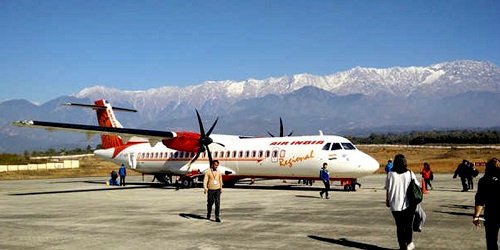 Dharamshala: The Jan Chetna, a social organisation  of Dharamshala has urged the government to implement the action quickly regarding establishment of Central University in Dharamsala  and expansion of Gaggal  Airport of Dharamshala. The office-bearers of the organisation, headed by Chairman SC Dhiman sent a memorandum to CM Jairam Thakur through ADC Kangra at Dharamshala today. The organization says that Central University should be established soon in Dharamshala and the government should also take effective steps for the expansion of Kangra Airport. Dhiman said, "The establishment of the Central University will provide relief to the students and the expansion of Kangra Airport will boost tourism."
On the other hand a deputation airport expansion Sangharsh Samiti, led by its chairman Kulbhash Chaudhary met MP of the area Kishan Kapoor today and requested him that any decision regarding the expansion of Gagal Airport should be taken according to public sentiments.
Kulhash Chaudhary said  that he informed the MP  about the situation of uproot of public  due to the expansion of Gaggal Airport, that this expansion will totally devastate 2000  families of the area and about 5000 families will be affected. "Expansion will ruin thousands of farmers too," added Choudhary.
He said that at the same time, about 970 shopkeepers will also loose their earnings due to it and about 5000 workers working at the shops will become unemployed. He said, "MP assured that all  decision will be taken after keeping the sentiments of the public. During this, Rajneesh Mongra, Vijay Kumar, Ved Prakash Chattani, Mona, Vijay Kumar, members of Viju Sangharsh Samiti were also present.