Budo Kai Du players win medals at 4th National Sikh Games Championship
The players of Budo Kai Du Mixed Martial Arts Federation of India were rewarded with medals at the 4th National Sikh Games New Delhi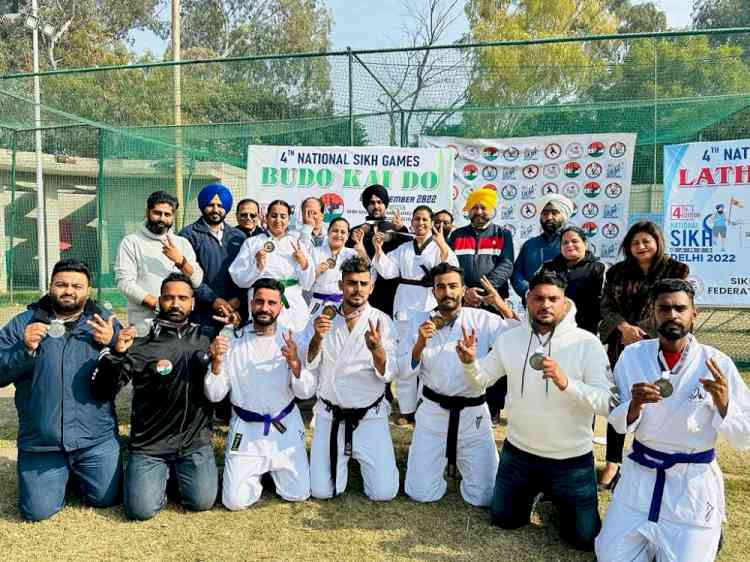 Chandigarh, February 6, 2023: The players of Budo Kai Du Mixed Martial Arts Federation of India were rewarded with medals at the 4th National Sikh Games New Delhi 

The teams from the Budo Kai Du Mixed Martial Arts Federation of India showing their enthusiasm and skills managed to win many gold, silver and bronze medals. The players who won the gold included Karanveer Singh, Ekamveer Singh, Jaskirat kaur, Amandeep Kaur, Balraj Singh.

The silver winners were: Amandeep Kaur,  Rupinder Singh,Parwinder singh , Gursharan Singh, Harinderpal singh , the bronze winning team included Gurwinder Singh Atwal, Rajesh Kumar, Simranjeet Singh, Nimrat Kaur, Mohilika Sharma, Gurwinder Singh and Gurjeet Singh.
The winners were congratulated by Coach Suman Lata Sharma, Harpreet Kaur, Munish Kumar, R.P. Sharma, Mukesh Kumar, Monika Kamboj, Yashkamal Sharma and Puneet Sharma.