Budo Kai Do Mixed Martial Arts players to join training camp in UK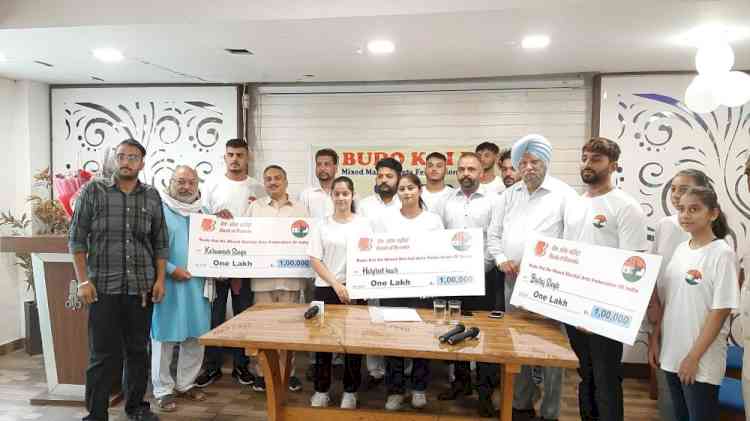 Chandigarh, September 29, 2021: Budo Kai Do Mixed Martial Arts Federation of India announced here today that its sportspersons will go to London to join the International Martial Arts Seminar and a 15-days training camp. The federation provided them with track suits, t-shirts and cash prizes. The training program and seminar is to be held in the month of November in London, UK.
 
Three players going to London, Harpreet Kaur, Karanvir Singh and Balraj Singh, were given cash prizes by the Federation.
 
The coach of the team is RP Sharma, while Harpreet Kaur is the captain of the team. International players in the Team London included- Karanveer Singh, Yugesh Bajaj, Manjeet Singh, Balraj Singh and Gursewak Singh.
 
The national level players in the team included Harpreet Kaur, Ekamvir Singh, Gurvinder Singh, Darshan Singh, Garvita Kaushal and Gagandeep Kaur. All of them have been preparing for the international tournament.
 
While addressing a press conference held at the Press Club here, Sharanjit Singh, President, Budo Kai Do Mixed Martial Arts Federation of India, said that an international tournament of martial arts is to be held in London in April 2022. The training program has been organized for the preparation of the same.
 
Budo Kai Do Mixed Martial Arts Federation of India was recognized by the School Games Federation of India in 1997. It is affiliated to the World Karate Confederation and the World Union Karate Do Federation.
 
The members of the Federation include Vipul Gupta – Vice President, Gopal Krishna, Ankur Gupta, Harpreet Kaur Dhaliwal, Yashkamal Sharma, Puneet Sharma, Manish Sharma, Deepshikha Arora, Kanwaljeet Singh Dhindsa, Madan Lal, Rana Jung Bahadur, Harpreet Kaur and Dr. Yogra, Chairman, Punjab School Education Board Mohali.
 
The trainers of Budo Kai Do Mixed Martial Arts Federation of India include Munish Sharma, Unish Sharma, Manjit Singh, Gurpreet Singh Randhawa, Manjit Singh and Pradeep Kaur.