Brooke India's Covid-19 Emergency Support Fund to help equine owning communities
BI realised the crucial role played by the leaders of these CBOs in delivering BI's COVID-19 emergency response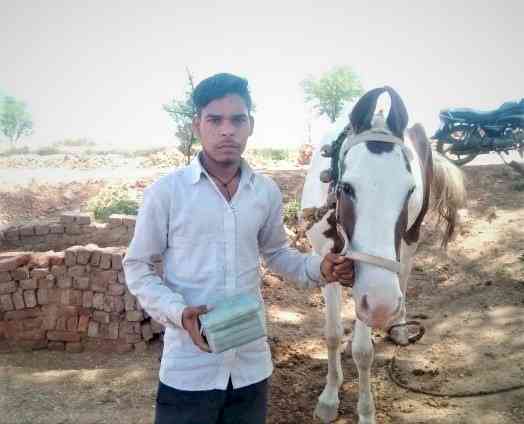 Equine owner Gyan Singh with his horse after recovery at RM Brick Kiln, Garhichatola, Dholpur, Rajasthan. During lockdown these kits are proving a boon for ailing equines.
Ghaziabad: The countrywide lockdown announced by the government on March 24, 2020, to combat COVID-19 pandemic affected lakhs of migrant workers in the country, which included those of marginalised equine owning communities. These workers not only had to grapple with the loss of their livelihoods, food shortages, and a grim uncertainty about their future survival, it also compromised the welfare of working equines owned by them.

Brooke India's (BI) team along with its Partner NGOs quickly responded to this emergency scenario by devising a robust COVID-19 emergency relief plan to support the neediest amongst those in this distressed community. The intervention was through BI's Partner Equine Welfare Units (PEWUs) throughout its operational areas in eleven States & Union Territories. 
BI COVID19 Emergency Fund support through Community-Based Organisations (CBOs)

As a part of sustainable community development and building up livelihoods and resilience in working equine owners, BI supports the formation of CBOs by them at various levels. During the COVID19 pandemic, the collective strength of these CBOs was harnessed to route the aid and relief provide by BI to the community.  This approach developed skills in the community to handle such future crises, whilst gaining financial strength by adopting effective business models in the providing the relief materials to the community at a subsidized cost whilst retaining a modest overhead and profit. 

Once site selection & selection of beneficiaries was carried out, BI and its NGO partners mobilised the local equine rooted CBOs to route the subsidized aid worth Rs 13.5 lacs to the neediest and most vulnerable equine owning communities. 
These CBOs provided, 58,404 kilograms (Kgs) of equine fodder, 55,049 Kgs of balanced feed, refilled/distributed 547 FAKs, administered Tetanus vaccination to 726 equines were through BI trained Paravets linked with CBOs and provide dewormers to 268 needy equines. Overall, BI provided support to 16801 neediest equines & 6164 most vulnerable equine owners. BI also provided capacity building virtual training to 280 CBOs leadership teams to plan, design & deliver emergency response during such crises. 

For BI, the pandemic has brought in new programmatic inputs for our future interventions. Our field team had to come up with new ways of working; training people on using new technologies to communicate remotely, provide online and telephonic emergency veterinary care and translating government COVID-19 guidelines in simple language to explain the risks in the most remote places. Most importantly, BI realised the crucial role played by the leaders of these CBOs in delivering BI's COVID-19 emergency response. 

Even though there is a gradual relaxation in the lockdown norms, the PEWUs will continue to provide required facilitation & technical support to the community and the needy equines with the support of these CBOs. /(Sharat K Verma,Ludhiana,Punjab)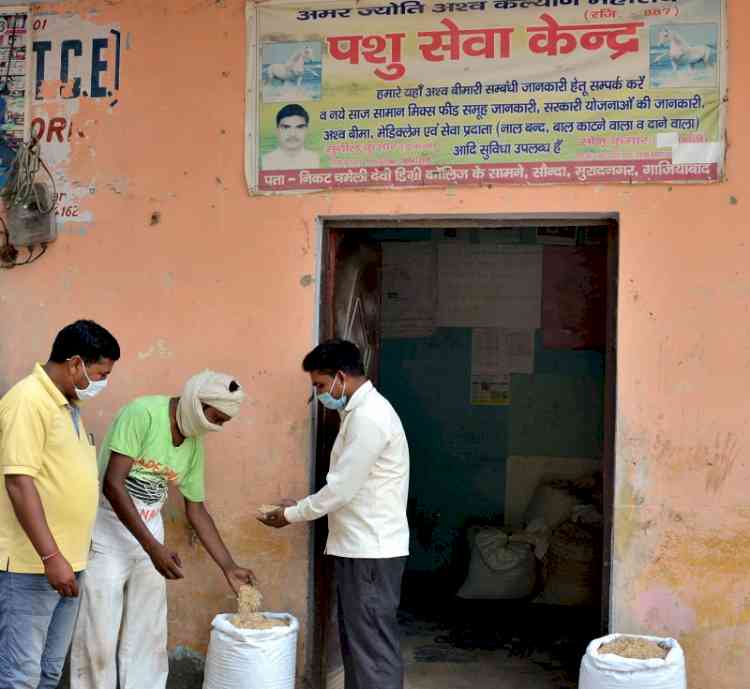 Balanced feed sold through Animal Resource Centre linked with Community Based Organisation in Muradnagar, Ghaziabad.