Boys hostel of DAV College Jalandhar organised sports meet
More than 165 students take part in this event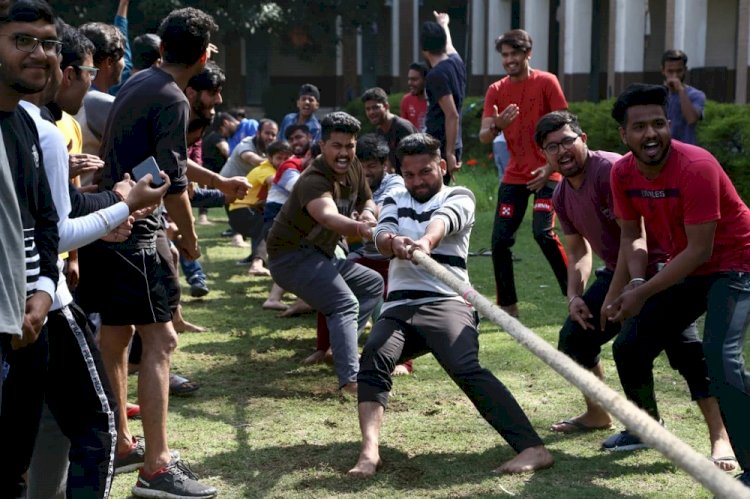 Jalandhar: D.A.V College Jalandhar MC Boys Hostel has organised 'Sports Meet' in which boarders and students enjoyed a lot enthusiastically.
DAV College jalandhar Boys hostel organised a sports meet . Principal Dr. S. K. Arora made his presence as the Chief guest. Chief warden Dr. Hemant Kumar, Warden Shri Ajay chauhan welcomed him by presenting a flower bouquet .
On this occasion Principal Dr.S. K Arora addressed students and said that games and Sports not only help in keeping our mind fresh but also gives many opportunities to learn new things in one's life. He stressed upon taking part in some activity along with academics. He said that if we want to succeed in our life then we should avoid looking back and we must be confident and must believe in our capabilities. He conveyed his best wishes to Chief Warden Prof. Hemant Kumar who organised this great event and he said he wishes that such events will be organised in future also.
The Chief Warden of the hostel, Prof. Hemant Kumar, said that the game teaches us discipline, and life without discipline is incomplete. If one can not win for any reason, then he should not give up, rather should go ahead with courage.
After this many interesting games were held like 100 metre , 200 metre and 400 metre race , Chess, Badminton, Table Tennis ,Football, Cricket, Tug of war and many more . These games entertained all the boarders and students.
Winners of the games were then awarded.
More than 165 students took part in this event.
Vice Principal Prof Ajay Kumar Aggarwal while addressing the hostel students said that he is privileged to be part of this event. He said that such events help in overall development of students.
Prof. S. K. Middha, Dr . Satish, Dr. Jeevan Asha, Dr. Ritu Talwar, Madam Rumila Verma, Prof. Pankaj Bagga, Prof. Vivek Thakur, Shri R. K. Mahajan, Ms Renu Mahajan along with students of boys hostel were present on this Sports Meet.
RESULTS:
100 meter race
1. Vikas Thakur
2. Manish Pathania
3. Saurabh
100 Meter Race (above 80 kg weight)
1. Akash
2. Abhishek Thakur
3. Abhimanyu
400 meter race
1. Vikas Thakur
2. Gaurav Sharma
3. Akashdeep Singh
Football:
Winner - C D Block (Siddharth Thakur)
Best Player - Maheshwar Rajput
Volleyball
1. Block B (Captain - Rajat)
2. Block A (Captain - Manmeet Singh)
Badminton
1. Abhishek Rana, Pulkit
2. Sarvesh Sharma, Aditya
Table tennis
1. Akhileshwar
2. Abhimanyu
Chess
1. Salik
2. Akash
Tug of war
1. Block A (Captain - Ashish Kumar)
2. Block B
(March 1, 2020)