Bosch trains and certifies CT University experts
Bosch has joined hands with CT University to work on skill development and training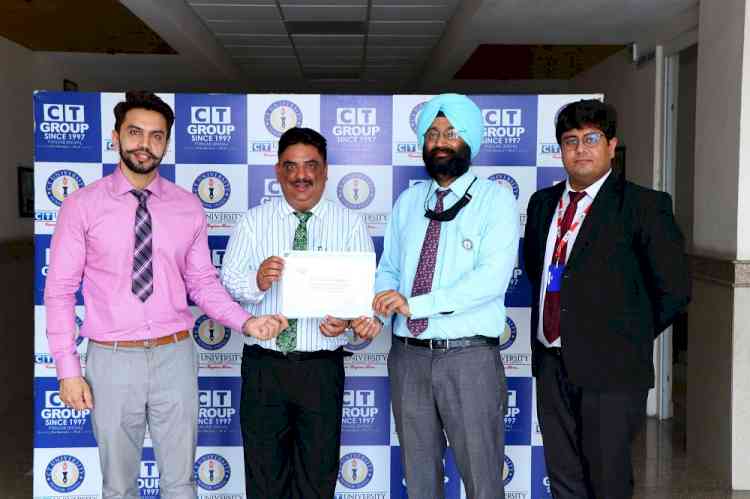 Ludhiana: Under the CT University's established BOSCH 'Industry-Academia Collaboration Centre' at its campus for Skill Development.; the Bosch Group has successfully trained and certified the Subject Matter Experts from CT University under the Bosch Bridge Collaboration for bringing out young accomplished professionals capable of meeting today's demanding industry requirements.
For the BOSCH - Industry-Academia Collaboration: University Subject Matter Experts Program, the following Subject Matter Experts from the CT University were certified: Skill Development of Youth: Dr. Kawal Nain Singh, Associate Professor; MSME Capacity Building: Dr. Sachin Sharma, Professor; Capacity Building of Non-Profits (NGOs): Dr. Jaspreet Kaur, Assistant Professor and Trainer Capacity Building: Mr. Rishabh Sharma, Assistant Director, HRDC.
Dr. Harsh Sadawarti, Vice-Chancellor, CT University said that Qualified and motivated vocational trainers are a rare commodity in India today, without whom skilling our youth cannot be achieved. To fill this gap, Bosch's trains trainers through its unique Train the Trainer (TTT) program, which covers: Student Mobilisation, BRIDGE Modules Delivery, Counselling Skills , Placement Process , Bosch Qualification of Trainers.
Ati Priye, Director Planning and Development and IACL for BOSCH India said that the herculean task of eliminating unemployment from India, by reaching out to youth in need of skill development and making them employable, cannot be achieved by anyone organization. Hence, Bosch has joined hands with CT University to work on skill development and training the Subject Matter Experts from the University to empower them in their journey of developing the youth of our nation.