Boot-up camp for budding entrepreneurs at CGC Landran
Business leaders shared their success stories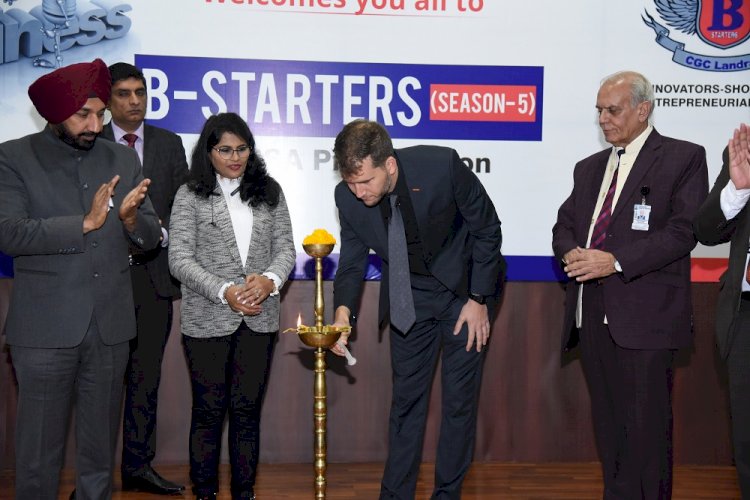 Chandigarh: A Boot-up camp for the upcoming 5th season of the annual Entrepreneurial event 'B-Starter' of Chandigarh Business School of Administration for cultivating entrepreneurial skills amongst students was organised at CGC Landran today. Passionate leaders and entrepreneurs from India as well as Abroad joined the camp to encourage the aspiring entrepreneurs to pitch their startup ideas and receive feedback from the experts during the B-Starter event that is to be held on 12th Feb 2020 at CGC Landran. "74 Successful startups are already being run by CGC Students with Turnovers in Crores. To help them further, we are coming up with dedicated incubation centers so that the ideas of students could be turned into existence and CGC will help them financially as well as with infrastructure support", revealed Satnam Singh Sandhu (Chairman, CGC) and Rashpal Singh Dhaliwal (President CGC) at the Boot-up Camp. 

The open house witnessed the presence of Sebastiaan Boussauw, lecturer at UCLL, Belgium, Recipient of Best Women Entrepreneur of Year by Economic Times- Ritu Singal, Recipient of India Best Innovative Entrepreneur in IP Services- Dr. Shwera Singh and Motivational Speaker- Rajan Choudhary who shared their success stories and Mantras with the students. The purpose of Boot-Up Camp was to familiarize students for B-Starters and give them the opportunity to touch-up their innovative idea with the practical exposure 
B-Starter is a Non Profit Organization which aims to support and help creating the difference between the leaders & followers as what leads the world in terms of ideas & innovation. It is an exercise in which students are coming together for a full day event to pitch ideas, form teams, and Start companies.