Book penned down by GGN Khalsa college Principal released
This programme was inaugurated by Gurbhajan Singh Gill, Former President of Punjabi Sahit Academy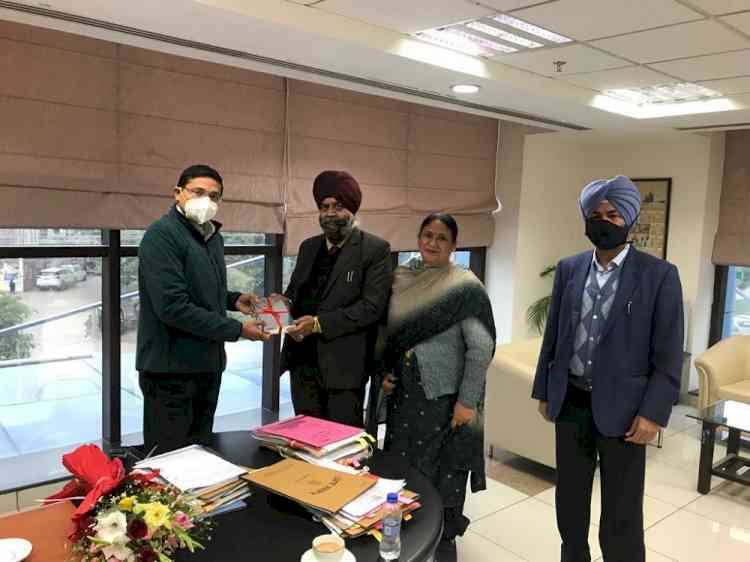 Ludhiana: Under the able guidance of Gujranwala Khalsa Education Council and President Dr. S.P Singh and Principal Dr. Arvinder Singh, In order to support protest of farmers and highlight current status of agriculture in country, a one day International Webinar,"Dhart Vangaare Takht Nu" was organized on 12th December 2020 by the Punjabi department of Gujranwala Guru Nanak Khalsa College, Civil Lines, Ludhiana. A galaxy of eminent poets presented their thoughts related to present status of farmers and agriculture in India. The webinar started with an addressing speech by. Dr. S.P. Singh, Former Vice- Chancellor G.N.D.U. Amritsar and President of Gujranwala Khalsa Education Council and also he welcomed the guests.
This programme was inaugurated by Gurbhajan Singh Gill, Former President of Punjabi Sahit Academy, Ludhiana. He said that we are having blessings of our Gurus thus; we are able to get such response of masses with us. Also he felt misery to explain that already  number of farmers are committing suicides and these three bills made it more difficult for them to earn bread and butter, not only farmers but business men and brotherhood among villagers will also get affected. These bills are directly beneficial for corporate sector only. 
This webinar was lead by famous poet and writer Dr. Surjit Patar. After that apoet conference took place in which famous poets i.e Onkarpreet Singh from Canada, Kulwinder Khaira, Surjit Kaur , Bhupinder Dulay, Prof. Jagir Singh Kahlon, Nakshdeep Panjkoha from America and Jagseer Jeeda, Dr. Sardool Singh Aujla,Tarlochan Lochi, Prof. Surjeet Judge, Mrs. Sukhwinder Amritand Sukhwinder Singh Gatol from Punjab, India shared their precious verses. 
While winding up the webinar Principal Dr. Arvinder Singh thanked officially to personalities. Hosting was beautifully performed by Prof. Sharanjit Kaur. Dr. Bhupinder Singh(HOD Punjabi Dept.), Dr. Gurpreet Singh, Prof. Manjeet Singh Chabbra, Dr. Harpreet Singh Dua,Dr. Tanjinder Kaur , Sahejpreet Maangat and Dr. Gopalsingh Buttar also paid their warm presence in this event. Secretary of Sahit Sur Sangam Sabha Italy, Daljinder Rahel was also present in the webinar.
Dr. Surjit Patar Said, this continuous protest by farmers has set an example for whole world by giving them a new idea of protesting for our rights. They all are bearing difficulties and are also enjoying the moment. He referred great history of Punjab to describe this situation. He praised poems sang by all poets present in this conference and also disclose some emotional relations to those creations. Also he shared some of his verses related to farmers with audience. Live telecast of this webinar was running on GGN Media Face book page and it was enjoyed by many authors, poets and audience from India and many other countries as well.