Bone and joint problems in children are fairly common
Many children are challenged and experience difficulty walking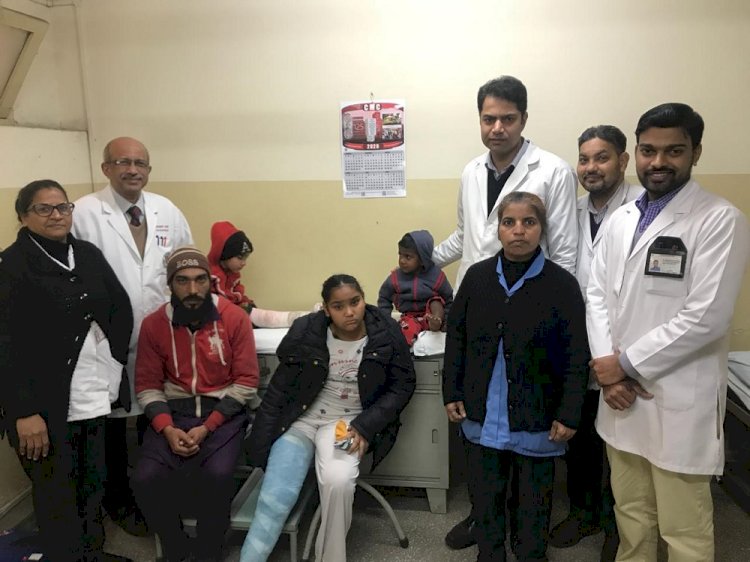 Ludhiana: Bone and joint problems in children are fairly common in our society and can lead to severe disability if not treated in time. With further growth of the child, the problem becomes more severe and affects their overall development. Many children are challenged and experience difficulty walking, while some even completely stop to walk. Similar problems are seen with the affection of upper limbs too. As a result, most of these children drop out from school and face depression and a compromised existence. Treatment of these children is challenging with very few orthopaedic surgeons having adequate training and confidence.
Christian medical college, Ludhiana, and department of Orthopaedics significantly contributes to the healthcare of people in Punjab and north India with a special emphasis on rural, underserved and unreached areas and communities. It has been a pioneer initiating and providing several medical facilities in the city and surrounding states.  The Paediatric Orthopaedic unit in the hospital has a well-organized team to deal with these problems in children from which, many have benefitted. The unit was set up by Dr. Bobby John after he trained at the Women's and Children's Hospital in Adelaide. He is now ably supported by Dr. Ritesh Pandey, who trained with Dr. Ashok Johari at Mumbai and recently received his advanced training in correction of deformities at China. The Paediatric Orthopaedic unit set up in 2000, continues its legacy, of now providing advanced treatment for various orthopaedic problems in children. This includes correction of various bone and joint deformities present at birth, shortening or under development of limbs due to injury, infection, tumors, calcium deficiency and other reasons. It also includes cases of cerebral palsy, post-polio affections and other neuromuscular abnormalities.
Sonu (name changed) had stopped walking for 12 years due to progressive deformities in his knees due to hemophilia and repeated bleeding in the knee. He used to crawl for going from one place to another. His mother told that all these years, she visited many doctors and had almost given her hopes that his son will walk again. Sonu's deformities have been corrected with surgery in CMC and  today he walks and stands tall with others. His mother is very happy and grateful for the care and treatment she received at CMC hospital. He is now an independent child going to school once again. There are many such examples of challenging cases. The doctors who are actively involved with the work at CMC hospital feel that children are the future of our society and they get immense satisfaction helping these challenged children. They have a particular interest in helping out the under-privileged children in society. They have the encouragement of C.M.C. administration and NGO's from the city, like the Rock foundation, who whole heartedly support the cause.