Bollywood Superstar Ranveer Singh applauds LPU's Multi Talented MBA Student
"Saahas  Ramaul is an all-rounder and young India's shining star": Superstar Ranveer Singh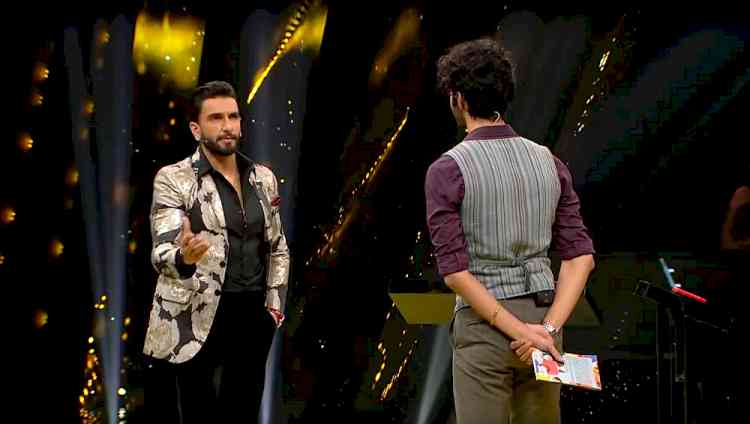 Bollywood superstar Ranveer Singh applauding LPU's MBA student Saahas Ramaul on his quiz show.
Jalandhar, October 27, 2021: Bollywood Superstar Ranveer Singh has lately applauded multi-talented MBA student Saahas Ramaul of Mittal School of Business at Lovely Professional University (LPU) for his versatility of devoted passions.  Saahas has shared India's latest popular visual-based next generation quiz-show 'Big Picture' of Colors Television with superstar Ranveer Singh.  Through a video based on LPU student's series of talents, Ranveer Singh embraced the student, and was much vociferous for his exemplary qualities. LPU Chancellor Mr Ashok Mittal congratulated the student for keeping alive his passion along with management studies.
Actor Ranveer Singh even accepted a book authored by Saahas as a kind gesture and said that "Saahas is an all-rounder and young India's shining star". The show was telecasted on ColorsTV and Voot OTT platform. Hailing from Dharamshala City of Himachal Pradesh, Saahas Ramaul was the only student selected from all universities as one of the contestants for this show. At LPU, he leads one of the 250 student organizations-'Literary Society' of the university. Being well groomed at the university through his mentors, he has already won many distinguished accolades at international and national levels.
Saahas's talents came to limelight when he hosted the 106th Indian Science Congress of India, which was inaugurated by the Prime Minister of India Shri Narendra Modi. He is also Model United Nations International (Malaysia) Silver Medallist; gold medallist in national and state youth festivals for debate, group discussions; one among top 29 keynote speakers of India; and,  have hosted and anchored several allied events including national and international conferences along with his all devotion towards management studies.
The 'Big Picture' show is India's first visual-based quiz-show which tests the knowledge and visual memory of the contestants. The contestants are provided with three lifelines, with the help of which they have to correctly answer twelve visual-based questions. The show is aired on Colors TV on weekends (Saturday & Sunday) at 8 pm.