Bollywood stars acknowledges Chandigarh's 23 years old professional artist Mayank's artworks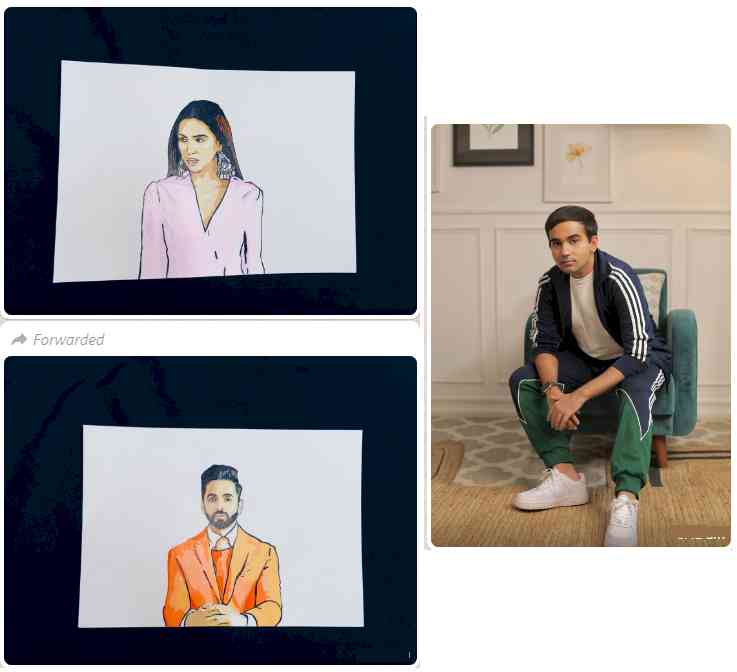 Chandigarh, September 14, 2021: Mayanks artwork have been shared and acknowledged by Jacqueline Fernandez, Ayushmann Khurrana, Kangana Ranaut, Amit Sadh, Parineeti Chopra, Sonam Bajwa, Tony kakkar and many More celebrities from the industry.
Gained 30k plus followers during lockdown, Mayank been never to art class.
Mayank has been associated via his art work with Manindar Bhuttar, Manav Chabhra, Anirudh Sharma, Mrunal Panchal, AshnaHegde, Vin Rana and many more.
Started as hobby in  2017,held  debut exhibition in December 2017, at Dastaan sector 7, Chandigarh, Mayank Dutt works as an software engineer in an IT firm currently but his heart lies in art.
The lockdown period has been a life changing experience for me, I had ample time to pursue my lifeline with my instagram 30 k and Moj ( 60 k)   handles  in a year, said Mayank. 
The Mayank instagram handle is @mayankdutt.
His collaboration with Kangana Ranaut crossed 400K views on Instagram in less than 20 hours and gathered  30 million views on my artworks combined and the portrait video i did for Jacqueline Fernandez crossed1.1 M views in a day.
Mayank has collaborated with international influencers like Gilmhercroes as well.